Castle Pines team takes first at Ragnar Trail Relay
August 1, 2014
/
/
Comments Off

on Castle Pines team takes first at Ragnar Trail Relay
By Lisa Crockett; photo courtesy of Kristin Ruder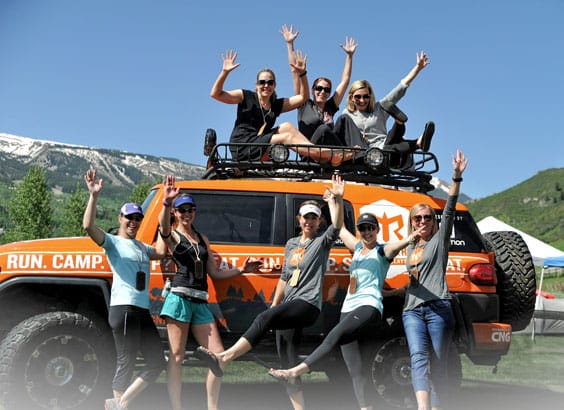 Team "Wine, Not Whine," comprised mostly of athletes from Castle Pines, took first in their age division for the Ragnar Trail relay this summer in Snowmass. Top row, from left: Jennifer Faulkner, Teri Scott, Jennifer Caughlin; bottom row, from left: Gwen Karaba, Kristen Narlinger, Kerri Zukosky, Kristin Jones, and Kristin Ruder.
Fighting fatigue, temperature changes and even an aggressive grouse, a group of local athletes took first in their age division this summer during the 23 hours, 8 minutes and 48 seconds it took them to complete the Ragnar Trail Relay in Snowmass. Kristen Narlinger, Kristin Jones, Kristin Ruder, Teri Scott, Jennifer Faulkner, Gwen Karaba, and Jennifer Caughlin – all from Castle Pines – ran to victory along with teammate Kerri Zukosky.
The team, which called itself "Wine, Not Whine," was comprised of friends and neighbors who have gotten to know each other largely through parent volunteer work at Timber Trail Elementary.
"During the time we weren't running, we were in the main camp called the 'Ragnar Village'," said Ruder. "That time together was a lot of fun, and we really came together and bonded as a team."
The race, which totals more than 100 miles, is divided into three loops, each of which are run by every person on the team. The difficulty of the trails – many of which included long stretches of uphill running – was tempered by beautiful surroundings.
"I ran a leg at 5:30 in the morning," said Ruder. "When I started, I felt a little nervous about running by myself, in the dark, in the woods. But then I got to see the sunrise and it was really gorgeous. You realize you are capable of more than you think."
The team is looking forward to more adventures together, including local races like the Hot Chocolate Run and the Runnin' of the Green, as well as the possibility of running together in locations further from home.
"This is something that really gets you out of your comfort zone," said Ruder. "We had a goal of finishing in under 24 hours, and we beat some younger teams in the process. When we finished, we felt totally accomplished."