Castle Rock landmark needs support to protect panoramic beauty
March 1, 2013
/
/
Comments Off

on Castle Rock landmark needs support to protect panoramic beauty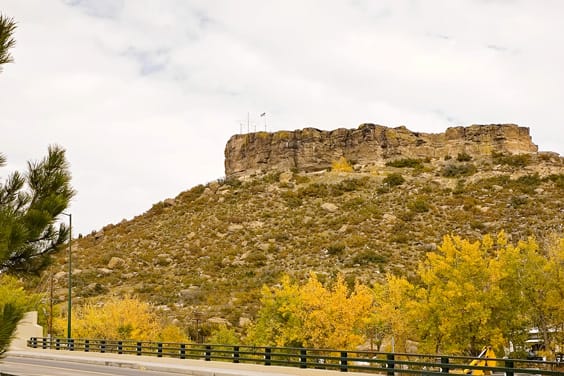 This historic landmark, easily visible from I-25 and surrounding communities, is maintained by the Keepers of the Rock.
By Lynne Marsala Basche; photos courtesy of POST Partners
When driving through Castle Rock, it is impossible to miss the town's namesake jutting majestically into the sky. Whether you have gazed at the lighted star atop the peak or hiked up the 1.4 mile trail, you know that the castle-shaped rock is a special place. What you might not know, however, is that an all-volunteer group, Keepers of the Rock, maintains this historic landmark.
Rock Park is a 62-acre area, which includes a single trail looped path to the base of Castle Rock. At the top of the trail, spectacular views of Pikes Peak, the Front Range, and downtown Castle Rock abound. In 2004, Keepers of the Rock, as part of the POST (parks, open space, trails) Partners program, began as a way to improve the area, as well as maintain it for the enjoyment of others. This all-volunteer group meets the first Saturday of the month from 8 a.m. to noon, April through November, and works on projects to reduce erosion, maintain trails, and keep the area clean.
The Keepers of the Rock is always looking for adult volunteers to continue its mission and lead crew teams of approximately seven teens, who are completing community service through the Teen Court justice system. (This volunteer opportunity is not available to high schoolers looking to earn community service hours.) No prior experience is necessary. Hard-workers with enthusiasm and dedication are encouraged to participate.
If you would like to support the Keepers of the Rock but are not able to volunteer your time, consider making a tax-deductible donation to the program. For more information about the Keepers of the Rock or to make a contribution, please visit www.crgov.com/index.aspx?nid=149.


Left: Picking up trash and weeding is part of keeping the area nice. Right: Volunteers work hard to make sure that Rock Park is taken care of for visitors to enjoy.