Community honors local fallen hero
February 1, 2018
/
/
Comments Off

on Community honors local fallen hero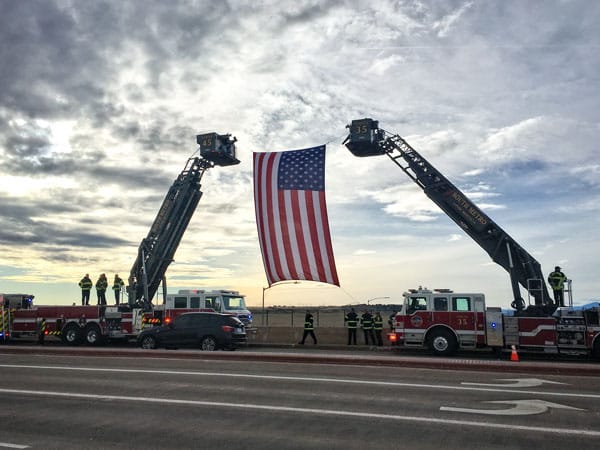 Residents lined the interstate on January 5 along with South Metro Rescue firefighters on the Castle Pines overpass to honor and pay their respects to Deputy Parrish.

By Lynne Marsala Basche; information provided by the Town of Castle Rock; photos courtesy of Kathy Fallert and Catherine Van Houten
On December 31, 2017, the Castle Pines community woke to the tragic news that Douglas County Sheriff's Office (DCSO) Deputy Zackari Parrish was killed, and three other sheriff's deputies and a Castle Rock police officer were injured during a shooting in Highlands Ranch.
The outpouring of support to honor Parrish, as well as the DCSO, began that day when residents lined up along I-25 with flags and heavy hearts to pay tribute during the procession from Littleton Adventist Hospital to the Douglas County Coroner's office in Castle Rock. Again on January 5, residents expressed their support honoring Parrish and the DCSO during his funeral procession along I-25, which included law enforcement officers from across the country, and stretched for more than a mile down the interstate.
The Castle Rock Police Department is in the process of converting Parrish's locker into a memorial time capsule to keep his memory alive for many years to come.
"Through Zack's loss, we have learned there are two ways to help our minds process what has happened," said Castle Rock Police Chief Jack Cauley. "You can talk to someone, or you can write about your thoughts. That is exactly what we want our officers, Town employees and the greater community to do."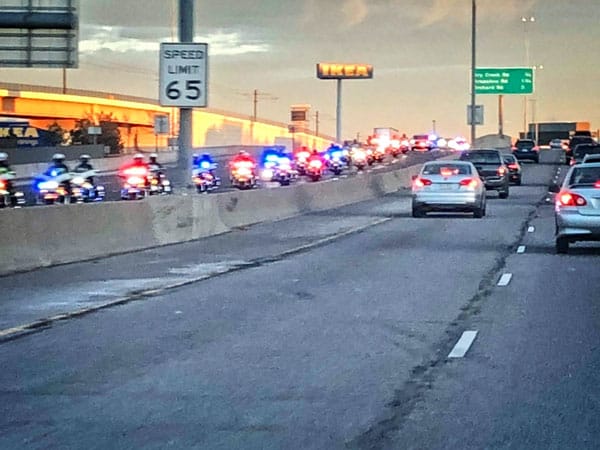 Deputy Parrish's funeral procession included law enforcement officers from all over the Denver metro area and stretched more than a mile down I-25.

The Castle Rock Police Department is asking for your letters to not only show your support of Parrish but also to help you process this tragic loss. Your letters will be included inside the sealed memorial time capsule along with some of Parrish's department-issued gear. If you are interested in participating, please drop your letters at the Castle Rock Police Department by February 2.
The DCSO encourages those who would like to donate to the family to contribute to the Fallen Officer Fund. To learn more about the Fallen Officer Fund, read the December 2016 issue of The Connection by visiting www.castlepinesconnection.com and searching "Fallen Officer Fund."