March 1, 2021
/
/
Comments Off

on Cookies for a cause
By Julie Matuszewski; photos courtesy of Danielle Bonilla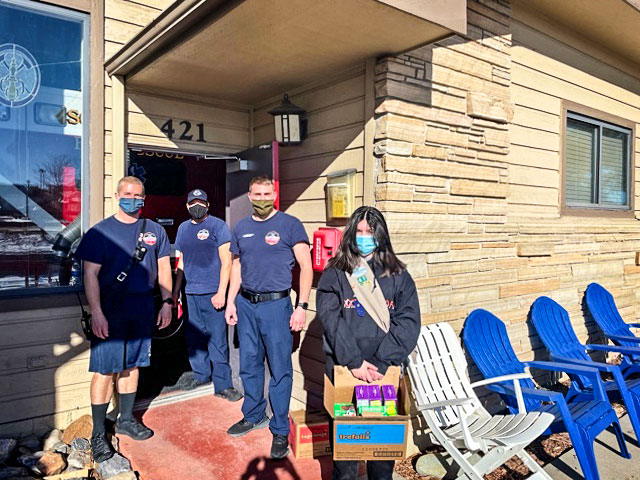 Jill Bonilla delivers a few Girl Scout favorites to our local heroes at Fire Station 36. This is just one of many donated cookie deliveries Jill will make this season. Through the Hometown Heroes program, Troop 60047 designated their cookie donations to teachers in the Douglas County and Cherry Creek schools.Thin Mints, Tagalongs and Samoas are just a few of the ever-popular Girl Scout cookies. Cookie season is in full swing, and as fans give in to their cravings, they can now know that each purchase is part of a bigger cause.
Jill Bonilla, a sixth grader at STEM School Highlands Ranch, recently moved from Aurora to the Castle Valley neighborhood in the City of Castle Pines. Jill has always had a passion for helping others in her community. She was first introduced to the Girl Scout program in first grade. She started as a Daisy with Troop 60047 and has worked her way up to Cadette within the same troop. The troop has a large community presence spanning across six middle schools with nine girls. Even though the troop is distantly spread apart, Bonilla keeps in constant connection with her sister Scouts and continues to initiate conversation and planning.
Bonilla's leadership skills and project planning has made her one of the top cookie sellers in her troop. Each cookie selling season, Bonilla offers help to her troopmates so they too can reach their goals. Whether she shared a sale received after reaching her own goal, helped another Girl Scout at a cookie booth without taking any of the credit, or shared ideas for new booth locations, Bonilla's troop and troop leaders can count on her to be a true leader.
Inspired by Jill's enthusiasm and leadership skills, a Castle Pines couple purchased 38 boxes of cookies from Bonilla with the request they be donated to the Douglas County Sheriff's Office in Castle Rock and Castle Pines Fire Station 36. The couple understands the values of the Girl Scouts all too well, as their three grown daughters were once Girl Scouts.
The generosity of the public, in addition to life-long skills Bonilla is learning as a Girl Scout, are just a few key elements helping her realize her goal of providing a community resource to those in the community that may need a little assistance during stressful times.
Sensitive to the pandemic and the impact that food insecurities have left on individuals and families, Bonilla would like to provide a community refrigerator where essential staples of eggs, cheese, milk, bread, apples and oranges are easily accessible to those who may need a little help. The concept of the community fridge is much like the little free library where individuals are invited to take items as well as leave items for others.
Bonilla is currently in the research and planning phase of this project in an effort to earn her Girl Scout Silver award, the highest honor a Cadette can achieve. Troop leader Gina Blakewell shared that Bonilla's spirit, commitment, and willingness to help is what being a Girl Scout is all about.