Cooperation and resource sharing well underway
February 1, 2012
/
/
Comments Off

on Cooperation and resource sharing well underway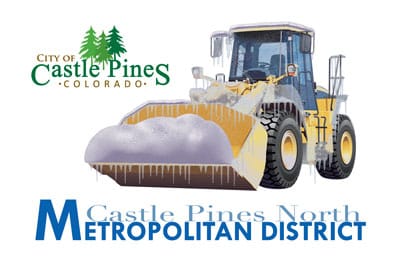 Information provided by Mayor Jeff Huff
The City of Castle Pines and the Castle Pines North Metro District have entered into a resource sharing agreement whereby the district will share vehicles and personnel with the city for snow removal services.
According to Mayor Jeff Huff, this will in no way change the snow removal contract, policies, or equipment the city currently utilizes, but will instead add to and enhance the services the city provides.
"We have identified that some of the larger equipment has a difficult time clearing smaller streets and cul-de-sacs," said Huff. "Following our primary snow removal services, these additional [district] resources can help with some of the clean up."
Both the city council and the district board agree that the sharing of community resources is an important step to ensuring that taxpayer dollars are utilized in the most efficient manner.
Both have expressed a commitment to continuing to seek opportunities and to coordinate activities and projects with each other whenever possible.
To learn more about the city, go to www.castlepinesgov.com. To learn more about the metro district, go to www.cpnmd.org.