January 1, 2012
/
/
Comments Off

on DCSM making a difference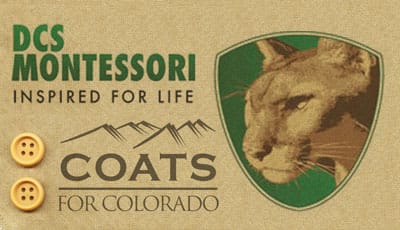 By Jodi Anderson, DCS Montessori
DCS Montessori (DCSM) students have been busy this holiday season. While many of us feel the stress and rush of this time of year, students at DCSM wanted to help others while making a difference in their community. They found several great ways to do this:
One of the classes proudly collected warm winter coats for Coats for Colorado. A couple of other classrooms joined together to support Two Cans knowing how hard our economy continues to be on many families. This organization asks donors to provide just two cans of food products as a donation. Two Cans then finds families in need via Montessori preschool programs in the Denver area. Most of the families supported by this group live at or below the poverty line.
Rebecca Jones, the DCSM's efficient and giving office assistant, had a great idea and encouraged the staff at DCSM to get in on the fun by sponsoring a family through the Douglas County Task Force. Jones coordinated with the Task Force and set up an online sign-up sheet to make things easy for the staff to get involved.
Our teachers, teaching assistants, and other school staff purchased clothing, toys, and treats galore for a family in need to make their holiday season brighter. They also collected gift cards and other toys for the Task Force to distribute to other families who weren't fortunate enough to be sponsored but have need of assistance.
All of these efforts were done to help a community we are proud to be a part of during a time of year that can be more difficult for some of the families in our area. We encourage you to help any of these worthy organizations in the way that is best for you and your family.
See the DCSM website for the most up-to-date information on what's new, including the exciting expansion into the Middle School arena at www.DCSMontessori.org.