Characters come to life in "Into the Woods Jr"
January 1, 2012
/
/
Comments Off

on Characters come to life in "Into the Woods Jr"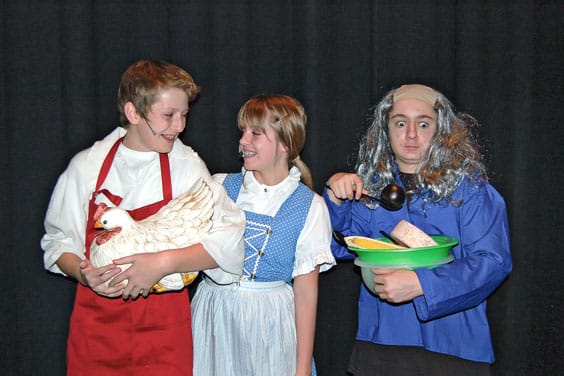 The Baker, his Wife and the Mysterious Man help to weave the plot together in this fun twist on the fairy tales of the Brothers Grimm. Left to right: Sam Hulsizer, Emily Klein, and Noah Fullerton
Article and photo by Amy Shanahan
The drama department at Rocky Heights Middle School recently performed the musical production "Into the Woods Jr.", to a packed audience with a great deal of accolades! "Into the Woods Jr." is a pared down version of "Into the Woods" written by James Lapine, with music and lyrics by Stephen Sondheim. The story intertwines the plots of several Brothers Grimm fairy tales. Many of the main characters meet on their respective journeys and the plot delves into the consequences of their various quests.
Students took on the roles of several well-known characters such as Little Red Riding Hood and the Big Bad Wolf, Rapunzel, Cinderella, and Jack from Jack and the Beanstalk. Other characters such as the baker and his wife, and the mysterious man (pictured on front page)help to bring the characters together.
"It was a true delight and amazing process directing these kids in 'Into the Woods Jr'. It is a very difficult musical and these young actors made it look easy. I was so proud of their outcome, but more how they handled the process and truly became a family," remarked show director Susie Ritter. "'My cup runneth over' after we closed on December second. I wish we could have performed it another weekend!"
The acting performances and the musical performances were all outstanding by this cast of sixth, seventh and eighth grade students. The crew was also made up of students, who did an outstanding job of creating and managing the sets, and running the sound and lighting. Emily Klein, an 8th grade student who made her debut as an actress in the role of the baker's wife stated, "I had a lot of fun! It was my first show and it felt really good to be able to do that! I think the audience liked it a lot—they were great with their reactions and the show moved along really well. The cast and crew got along really well; everyone was really willing to help each other out. I would love to do more shows in the future, without a doubt!!"