Donations needed for Easter gift baskets for homeless children
March 1, 2013
/
/
Comments Off

on Donations needed for Easter gift baskets for homeless children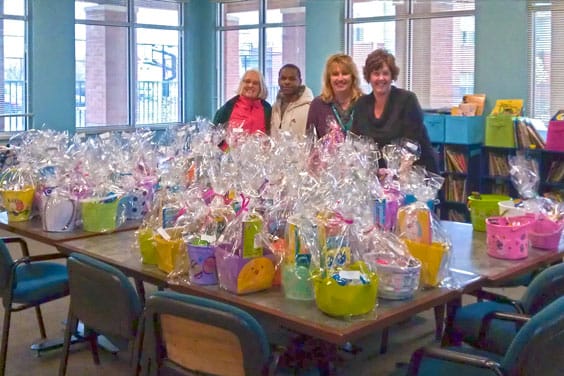 Project Easter Basket endeavors to reach out to homeless children throughout the Denver and Castle Rock area by delivering gift baskets of much needed toiletries, school supplies and goodies. Many more donations are needed!
By Amy Shanahan; photo courtesy of Stacy Gaines
Castle Pines Village resident Stacy Gaines is at it again! For the sixth year in a row, Gaines and her friends are coordinating the Project Easter Basket effort, which strives to provide Easter baskets full of hygiene items, school supplies, and goodies to homeless children throughout the metro area.
Last year, thanks in part to many Castle Pines Connection readers, Project Easter Basket delivered 425 baskets to eight local shelters. This year, the goal is to deliver 850 baskets to Denver Inner City Parish, the Denver Rescue Mission, the Colorado Coalition for the Homeless, the Douglas County Task Force, Parker County Task Force, and a local Castle Rock women's shelter. In seven years, Project Easter Basket hopes to provide baskets to the entire state of Colorado.
Carolyn Kimzey is a neighbor who delivered baskets to the Samaritan House last year. "The Easter Baskets were such a blessing to the families at Samaritan House. They were so happy and appreciative to receive these beautiful gifts. It was such a wonderful experience to help with this project, and to deliver these special treats to people who are struggling to regain some dignity in their lives," Kimzey stated.
Gaines has the support of many in the community, including Delta Dental who already provided 864 toothbrushes. Students at Buffalo Ridge Elementary and Timber Trail Elementary have taken on the project and will be collecting donations and helping to assemble the baskets. However, much more help is needed to make this dream a reality, and Gaines hopes to earn the support of more local businesses and residents.
According to the Colorado Coalition for the Homeless, nearly 12,000 people are homeless, or in transition, on any given night in Colorado, and 64 percent are families with children. The Easter baskets are a small token of giving and joy for so many of these children. Each basket costs approximately $10 to complete, and the baskets are geared toward four different age groups: infants, toddlers, grade-school, and teens.
"I'm thrilled and delighted to receive the support of The Castle Pines Connection again this year," remarked Gaines. For information on how you or your business can help with this important project, e-mail Stacy Gaines
stacy@gainesdg.com.