Fall splendor in the Colorado Rockies
September 1, 2015
/
/
Comments Off

on Fall splendor in the Colorado Rockies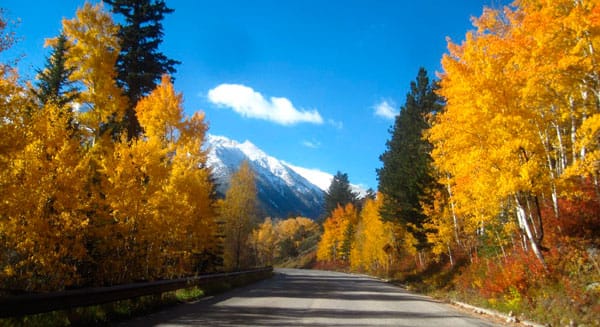 By Patte Smith
Autumn in Colorado is a sensory experience. Whether on a weekend drive through the mountains or trekking along a path next to a stream, the beauty of fall colors is amazing. Take a deep breath and smell the pines while enjoying the breathtaking sights of the Rockies and the color palette of the changing trees in September. Do not forget the camera – the splendor awaits, especially for anyone new to Colorado.
Fairly close to home is the 11,700-foot Guanella Pass Scenic Byway that runs between Georgetown and Grant. Leaf peepers, as New Englanders call fall tourists, may also get the chance to see mule deer and big horn sheep butting their heads. Several hiking trails can be accessed from the pass and the Mount Evans wilderness area borders the road on the east – a striking sight to see.
Panorama Point in Golden Gate State Park offers spectacular views of the Front Range along with aspen trees, ponderosa pines, green meadows, a creek, ponds and wildlife. An easy one hour drive from the Denver area, the park is great for picnickers, hikers, fishermen and leaf-peeping photographers.
Another day trip is the 55-mile Peak-to-Peak Scenic Byway that begins in Estes Park and winds its way south along the edge of Rocky Mountain National Park and the Indian Peak Wilderness Area ending in Black Hawk. Stunning views of the mountainous Continental Divide show an array of colors. If travelers decide to head west out of Estes Park and through Rocky Mountain National Park, the thrill of hearing the elk bugle is a real treat as you drive through this beautiful park. The rut will be in full swing and the bull elk will be competing for the dominance of their harem.
A bit further away, the Cache La Poudre-North Park Scenic Byway that links Fort Collins to Walden is well worth the trip. Enjoy the scenic drive to Cameron Pass while viewing all kinds of wildlife. After going over Cameron Pass, the Colorado State Forest Moose Visitor Center is a great stopping point to spot moose along the Michigan River or get directions to where moose can be seen in the high country. A personal favorite is the Flat Tops Wilderness area that is breathtaking in the fall and the entire year. It stretches west from Yampa to Meeker.
Several websites have useful information about scenic fall drives throughout the entire state. Two that are notable are www.colorado.com and www.codot.gov/travel/scenic-byways. More information about Colorado Parks can be found at www.parks.state.co.us or www.fs.usda.gov.