Family bravery that goes beyond the badge
April 1, 2015
/
/
Comments Off

on Family bravery that goes beyond the badge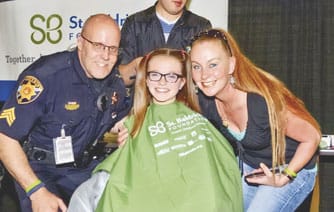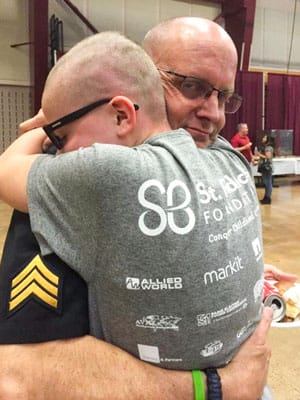 Douglas County Sheriff Deputy of 27 years Sergeant Russ Slade (left) with his wife Rhonda (right) moments before their 13-year-old daughter Rhianna had her hair shaved off in support of the St. Baldrick's Foundation.
An emotional moment shared between father and daughter as the impact of the moment and the purpose behind it hit. "I'm so proud of her and she looks beautiful,"shared Slade.
By Terri Wiebold; photos courtesy of Ralston Photo

It was a family affair at this year's Ninth Annual Douglas County Sheriff's Office Shave-a-Thon in March at the Douglas County Events Center to benefit St. Baldrick's.
The shave-a-thon is a fundraiser for the St. Baldrick's Foundation, a nonprofit childhood cancer charity funding the most promising research to help find cures for kids with cancer.
Douglas County Sheriff's Deputy Sergeant Russ Slade brought his family to witness the shaving of his full head of hair, beard, and mustache. To his surprise, his 13-year-old daughter made the last-minute decision to shave her head as well.
"At first my mom was against the idea, but I looked at her with a tears welling up in my eyes and told her 'I need to do this'." I was so scared at first, but everyone started clapping and I thought it was totally worth it!"
When asked why she decided to do it Rhianna replied, "I wanted to stand up for kids who get bullied and teased. At a basketball game I met a girl [from the other team] who had cancer and her head was shaved. She was so beautiful and I saw her as a role model." Rhianna said she hopes that she can be as inspirational as that girl was to her. "That's what I was thinking about when they shaved my head … I want to be like her."
Although Rhianna and her mother were both worried about the reaction she would get at school, Rhianna said that she received nothing but positive feedback. "They told me I was
beautiful and it totally made my day."
The event raised more than $35,000 for childhood cancer research and donations are still being accepted. Visit www.stbaldricks.com and search "Douglas County Patrol Division Team."