Four RCHS teens earn Eagle Scout honors
April 1, 2009
/
/
Comments Off

on Four RCHS teens earn Eagle Scout honors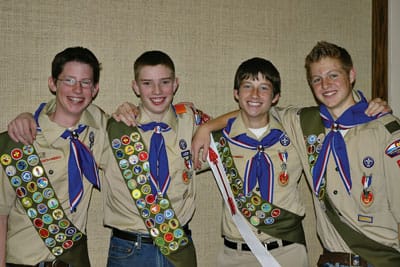 Birds of a Feather: (from left) Skyler Draper, Nathan Cook, Cameron Lindemann and Chase Bell all received their Eagle Scout awards on the same day. All four of the boys are students at Rock Canyon High School. The boys are scouts in troops 365 and 530. (Photo by Lisa Crocket)
by Lisa Crockett
The journey from being a Cub Scout to an Eagle Scout is a long and challenging one, and most Boy Scouts will tell you that enlisting the help and support of friends is integral to success.
In fact, the project all Scouts must complete to receive the rank of Eagle requires the Scout to hone his leadership skills but cannot be done alone – in order to be successful he must rely on the help of friends.
Eagle Scout Nathan Cook, who is 15 years old and lives in Surrey Ridge, took that idea one step further, dividing his Eagle project amongst his friends, turning one overwhelming project into three more doable ones and providing two of his Scouting peers with projects they could use to receive their Eagles as well.
"I did a landscaping project at Wildcat Mountain Elementary," said Nathan. "They also needed a fence and a gazebo built, and that seemed like a lot for one person, so we decided to see about dividing the work."
Enter 15-year-old Cameron Lindemann, who lives in Beverly Hills, and 16-year-old Skyler Draper, who lives in Castle Pines North (CPN). Cameron handled the gazebo and Skyler took on the fence as his project. By the end of last summer, all three boys had their Eagles in the bag.
"It was great to work with Cameron and Nathan," said Skyler. "It's also a feeling of relief to have it over! I'm really glad I did it."
"Wildcat has had a number of projects completed by our neighborhood Eagle Scouts," said Gary Poole, who is principal at Wildcat Mountain Elementary. "We always appreciate their dedication and effort. This project was another example of the great things our children can accomplish when given a sense of purpose."
Meanwhile, another Scout in CPN, 18-year-old Chase Bell, was gathering toys and games to be used at Children's Hospital in Denver for his Eagle project.
"It took seven months to complete the process of doing my project," said Chase. "I have decided that the key to success is perseverance."
After all the boys completed the long process of doing their projects and completing the necessary paperwork and reviews with Scout leaders, they were all ready to receive their awards at about the same time and were recognized at a joint court of honor for the boys who are members of Boy Scout Troops 365 and 530. Both troops are sponsored by the Church of Jesus-Christ of Latter-Day Saints.
"Doing the required merit badges, making plans and carrying out their projects and then going to the necessary review process equals at least three or four weeks of full-time work," said Clark Walker, who is Scout Master of troop 365. "I want to extend my deepest congratulations to Skyler, Nathan, Cameron and Chase."
All four boys are students at Rock Canyon High School.