June 1, 2018
/
/
Comments Off

on Get CarFit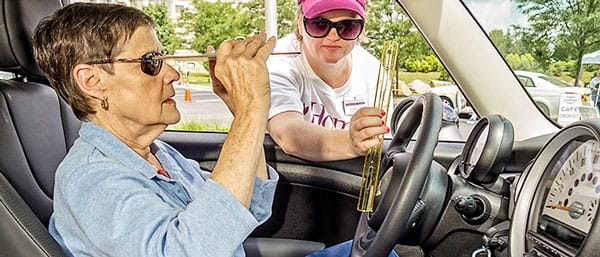 Information and photo provided by the American Automobile Association
CarFit is an educational program sponsored by the American Automobile Association that offers older adults the opportunity to check how well their personal vehicles "fit" them. The CarFit program also provides information and materials on community-specific resources that could enhance their safety as drivers, and/or increase their mobility in the community.
Why is CarFit important?
Older drivers are often the safest drivers in that they are more likely to wear their seatbelts, and less likely to speed or drink and drive. However, according to the National Highways Traffic Safety Administration, older drivers are more likely to be killed or seriously injured when a crash does occur due to the greater fragility of their aging bodies.
Driver safety programs improve adult driver safety by addressing cognitive abilities and skills, however, older drivers can also improve their safety by ensuring their cars are properly adjusted for them. A proper fit in one's car can greatly increase not only the driver's safety but also the safety of others.
"It is an excellent program and we definitely support it," said South Metro Fire Rescue Risk Reduction Educator Einar Jensen. "The risks we face as drivers often time stem from not using a vehicle's technology correctly – proper rear view mirror adjustment, for example."
How is a CarFit check completed?
At a CarFit event, a team of trained technicians and/or health professionals work with each participant to ensure they "fit" their vehicle properly for maximum comfort and safety. A CarFit check takes approximately 20 minutes to complete.
When and where is the next CarFit event near you?
AAA Colorado SouthGlenn, located at 7400 S. University Boulevard, Centennial, will be hosting a CarFit event July 10 from 10:30 am – 12:30 pm. For additional information or to register, contact Angelia McGowan at 303-91-5740 or visit www.car-fit.org/carfit/RegisterCarFit.