Girl Scout troop earns the Bronze Award
August 1, 2015
/
/
Comments Off

on Girl Scout troop earns the Bronze Award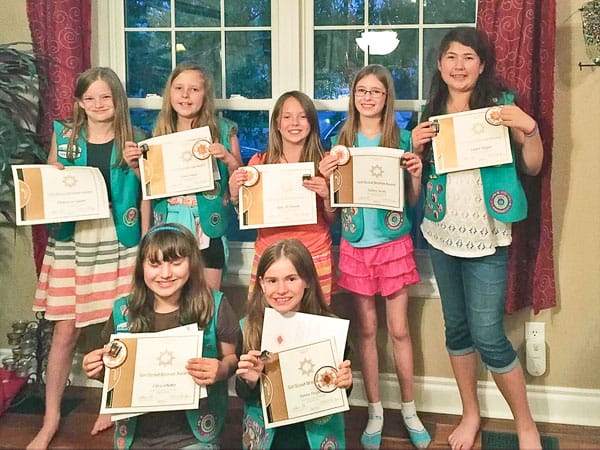 Girl Scout Troop 4486 members received their Bronze Awards.

Some of Troop 4486 scouts, along with co-leaders Brenda Ferguson and Trina Wegner, delivered Bronze Award project baskets to Sky Ridge Hospital.

By Lynne Marsala Basche; photos courtesy of Brenda Ferguson
In some way we all hope to help those who need it most, whether it is people in our community who need assistance or those whose days we can make brighter. Girl Scout Troop 4486 from Castle Pines made a lasting impression on children's lives while earning the highest honor a Girl Scout Junior can achieve, the Bronze Award.
Troop 4486 has been together for four years, and while some girls have come and gone, there are many who have participated since the troop began. The Scouts, along with their co-leaders Brenda Ferguson and Trina Wegner, care deeply about their community. They have worked tirelessly laying mulch for the playground at Buffalo Ridge Elementary (BRE), visiting and performing at a local nursing home, and coordinating fundraising efforts for the Buddy Center as some of their projects.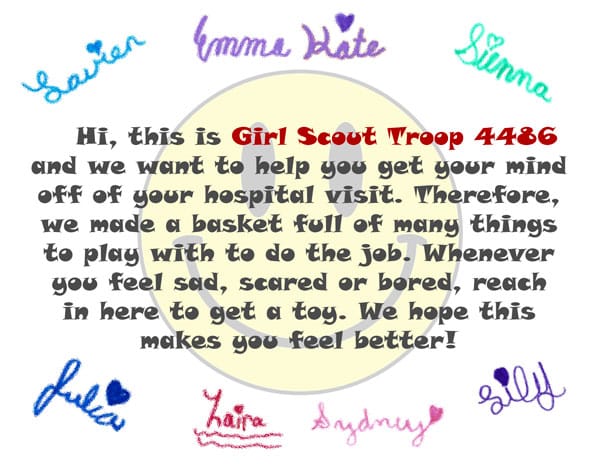 When the time came to work on their Bronze Award, each girl came up with and presented their idea to the group, and then they all voted on a final project. The Troop decided the Bronze Award project would be to create and deliver baskets to 50 children at Sky Ridge Medical Center. Whether children were in the hospital for treatment, an extended stay, or a visit to the emergency room, Troop 4486 wanted those kids to know they were in the Troop's thoughts.
For the Bronze Award, each girl was required to devote 20 hours of work towards the project. The girls contacted various hospitals, researched what to include in the baskets, and budgeted prices on activity books, trinkets and small toys. The girls also ran a fundraiser at BRE to raise money for the basket contents. "The girls had to build a plan and then divide up all the tasks to execute the plan. When something didn't go as expected, they had to modify the plan," noted Ferguson.
Troop 4486 can expect even more responsibility in the coming year, including leading a workshop for younger Girl Scouts. "It is so amazing to see the girls implement things they learned in our meetings from badge requirements to, of course, the distinguished Bronze Award," said Wegner, "and Silver and Gold Awards, here we come!" The girls of Troop 4486 are going far and will no doubt continue to be ambassadors in our community.