Mountain biking races open to all members of the family
August 1, 2015
/
/
Comments Off

on Mountain biking races open to all members of the family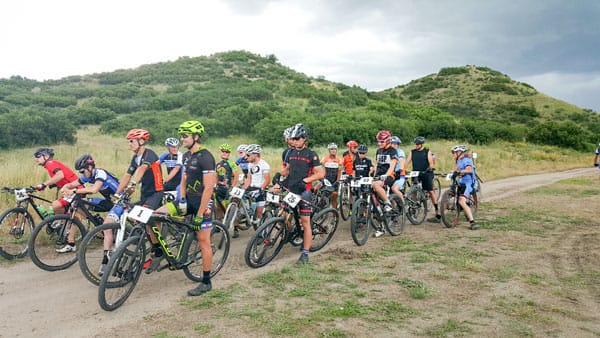 Riders who participate in the Race the MAC series are able to choose from a variety of classes in which to race in order to accommodate different abilities and age groups. The spectacular setting and host of options at the park make this a really fun family-friendly event.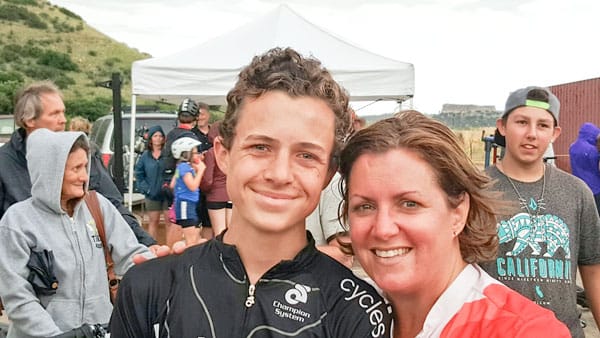 Kim Lockett and her son Alex raced in different classes at the Race the MAC bike race, but both enjoyed themselves. For Kim it was her first mountain bike race ever, and Alex, who races on the Rock Canyon team raced with riders ages 18-35, even though he is only 15. Both agreed it was "hard, fast and fun!"
By Amy Shanahan; photos courtesy of Kim Lockett
The new Philip S. Miller park in Castle Rock is already proving to be a fantastic venue for exciting new events. One such event is the "Race the MAC" mountain biking series that is taking place this summer.
Race the MAC is the brainchild of Kyle Sipes who works in the building division for the City of Castle Rock. Sipes is an avid mountain biker who recognized a need for races that were held on days other than weekends. "Weekend races get harder as people have families, so this seemed like a great solution in a perfect venue," stated Sipes.
Sipes set out to get sponsors and quickly picked up Trek, Castle Rock Bike and Ski, and Pedal – among others. Castelli agreed to manufacture a race leader jersey and numerous other manufacturers stepped in with free items for the winners to choose from. Sipes also convinced Grist Brewing Company in Highlands Ranch to offer free beer to the participants.
Race the Mac is a series of five mountain bike races that have taken place at the Philip S. Miller Park on various Wednesday evenings. The final two races will take place on August 5 and 12 and are open to all. The course ranges from approximately 6-18 miles long and there are a variety of classes to accommodate different age groups and abilities.
Kim Lockett and her son Alex are Castle Pines residents who participated in one of the July races and they had a blast. "The course was fast and fun, the atmosphere was great, and there were lots of people there – it was really fun!" remarked Kim.
The races are open to pros as well as beginners and are family friendly. Sipes wants to encourage families to come out to the event, even if only one member participates. "There is a whole backdrop of things to do at the park," explained Sipes. "There is something for everyone and entire families can be involved. That's the best thing about this series."
To learn more about the Race the MAC mountain biking series or to register, visit www.raceco.org.