Holiday treats in a flash
December 1, 2018
/
/
Comments Off

on Holiday treats in a flash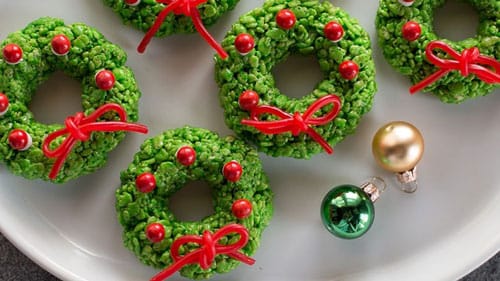 By Lisa Crockett
'Tis the season to be … busy. In a perfect world, holidays would come with extra hours in the day with which to create scrumptious goodies in the kitchen like elves in Santa's workshop. Alas, we mere mortals are stuck with the same old 24 hours a day we get the rest of the year. Here are some ideas for festive treats that are made with mostly pre-made or packaged ingredients but still look festive and taste great:

Rice Krispies wreaths: make a batch of Rice Krispies treats according to the directions on the cereal box, but add green food coloring when you stir in the marshmallows. Then, form small handfuls (about ¼ cup) into wreath shapes and adorn with cinnamon candy "ornaments".

Santa cake: make a cake from a cake mix (any flavor) according to package directions and bake in a 9×13 pan. When the cake is completely cool, turn it onto a platter and frost with red frosting. Down the center of the cake the long way, pipe a strip of white frosting, then place four chocolate wafer cookies (like Famous Wafers) for buttons down the center of the cake. Pipe a strip of black frosting down the center of the cake the "short way" for Santa's belt. For an extra festive touch, use gold glitter frosting or fondant to create a belt buckle.
Reindeer pretzels: Place 30 bite-sized twist pretzels on a baking sheet, and then place an unwrapped Rolo candy in the center of each pretzel. Bake in the oven at 250 degrees for about 3 minutes. Working quickly while the candy is soft, press a red candy "nose" and two candy eyes (available at craft stores and some grocery stores) and an additional pretzel, broken in half, to form antlers.

Brownie trees: Bake a boxed brownie mix according to package directions and allow to cool. Cut brownies into triangles and pipe with frosting to form garland. Press M&Ms or cinnamon candies into frosting for ornaments.

Festive Snack Mix: In a large bowl, mix thee cups of each: Corn Chex, Rice Chex, Cheerios, then add two cups of pretzel sticks and two cups of dry-roasted peanuts, and a one-pound bag of M&Ms. Melt one pound of white chocolate chips and drizzle over the mixture, stirring to coat.
Polar bear paws: Mix a cake mix according to package directions and bake into cupcakes with white liner papers. Frost with white frosting, then dip frosting into coconut to create a "furry" effect. In the center of the cupcake, place a chocolate wafer cookie or Oreo cookie, then place four chocolate-covered peanuts above the cookie to create a "paw print" on the cupcake.

Santa hats: Purchase packaged "Two Bite" brownies (brownies should be mini-muffin shaped). Top with a small dollop of whipped cream and top with a whole strawberry (with the stem removed) with the "point" of the strawberry up. Place a tiny dollop of whipped cream on top of the strawberry to create a pom pom on the hat.

Marshmallow pops: Crush five or six regular-sized candy canes (or 10-12 miniature ones) and melt two cups of semi-sweet chocolate chips in the microwave, then allow to cool for a minute or two. Skewer jumbo marshmallows with a mini candy cane, dip the marshmallow in the chocolate and then dip in crushed candy cane.