Let the giving begin … Colorado Gives Day is December 6
November 1, 2022
/
/
Comments Off

on Let the giving begin … Colorado Gives Day is December 6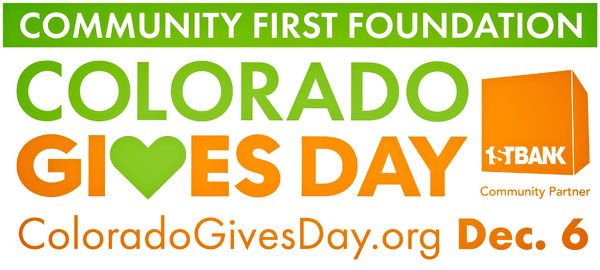 The giving season is upon us, and residents in Douglas County are, and have always been, very generous with their charitable contributions. Unfortunately, the misconception is that there is not much need for assistance in Douglas County, so much of the funding is directed to national organizations. Nonprofits in Douglas County are eager and grateful for the outpouring of support that comes each year with Colorado Gives Day (CGD); this year, it is December 6.
Douglas County Community Foundation (DCCF) is the regional champion for Douglas County-based nonprofit organizations that participate in CGD through Douglas County Gives (DCG) and the "give where you live" campaign. This year's goal for DCG is $2 million, up from $1.6 million in 2021.
The campaign is important. "For many nonprofit organizations, the majority of donor funds come in during the last quarter of the year," shared DCCF board member, Amy McCandless.
In 2010, Community First Foundation (CFF) created Colorado Gives 365 to help donors connect and support nonprofits throughout the year. Donating on CGD gives individuals an opportunity to feel part of something even bigger.
Additionally, donations that come in between November 1 and December 6 will count toward a $110,000 Incentive Fund offered by FirstBank and other participating corporate partners, providing nonprofits the opportunity for cash prizes.
"With a single transaction, donors can give and support as many nonprofits as they want," shared Cindy Matthews, director of communications and community outreach for CFF. PayPal and Venmo will soon be added as payment options, in addition to major credit cards, bank accounts and donor-advised funds.
"From mental health care to protecting the environment, every day in Colorado our nonprofits keep us happy, healthy and safe," said Kelly Dunkin, president and CEO of CFF. "Colorado Gives Day is the perfect opportunity to say thank you by donating to your favorite nonprofits."
Learn more about the DCG campaign through the Douglas County Community Foundation by visiting www.dccf.org. To search for, and donate to, nonprofit organizations across the state of Colorado, visit www.coloradogives.org.
And remember … every meal matters; every family matters; every teen matters; every animal matters; every
matters; and every donation matters!
By Elean Gersack