Memorial pays tribute to Douglas County veterans
November 1, 2015
/
/
Comments Off

on Memorial pays tribute to Douglas County veterans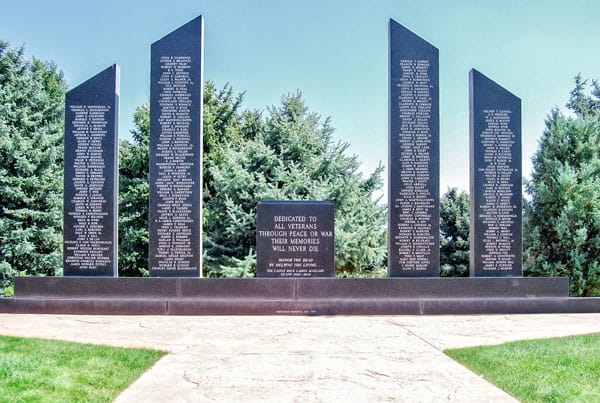 The list of distinguished Douglas County veterans engraved on the Veterans Memorial will grow as five new names are added this Veterans Day.

Article and photos by Lynn Zahorik
Nestled in the trees of the Cedar Hill Cemetery in Castle Rock is the majestic Veterans Memorial. Built and erected in 1992, the black granite memorial bears the names of 380 Douglas County Veterans who are interred at the cemetery. The impressive monument is surrounded by graves that date back to 1875, and veterans from all branches of the military are buried there – including some Civil War soldiers. All veterans' graves are graced with a military marker.
On Memorial Day and Veterans Day, American flags are placed in the markers, often times by local boy scouts. The memorial is updated with the names of the newly deceased veterans prior to each of these holidays. The Castle Rock American Legion reads the names of all of the veterans buried in the cemetery at a ceremony held on Memorial Day.
Visitors are welcome to view the Veterans Memorial on any day of the week from dawn to dusk. It is located at 880 East Wolfensberger Road in Castle Rock. The Veterans Memorial is illuminated in the evening and until dawn, as it is adorned 24-hours a day with both an American flag and Colorado flag. The American Legion Flag Code requires that the American flag be properly illuminated during the hours of darkness.

Old Glory will adorn each veterans' grave on Veterans Day, November 11 at Cedar Hill Cemetery.
Veterans Day is the day set aside to thank and honor all those who served honorably in the military, in wartime or peacetime. It is an opportunity to thank living veterans for their service and to acknowledge all they have sacrificed and done for our country, as well as remember those who have departed.

On November 11, the Douglas County Office of Veterans Affairs, in conjunction with the Douglas County Veterans Monument Foundation, will conduct a Veterans Day tribute. It begins at 11 a.m. at the Douglas County Veterans Monument Plaza located at the corner of Wilcox and Fourth Streets in downtown Castle Rock. The program will feature a special remembrance and will honor all veterans – past and present.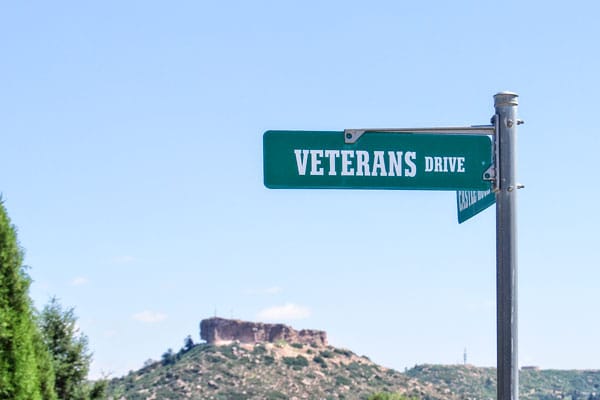 A view of the historic Castle Rock landmark can be seen from the corner of Veterans Drive and Castle Rock Drive.