January 1, 2018
/
/
Comments Off

on New Eagle Scouts honored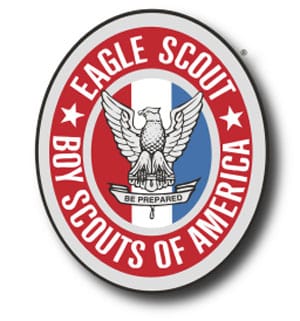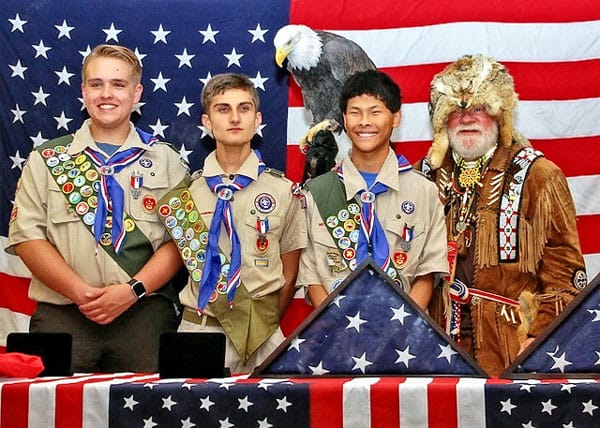 Castle Pines Boy Scout Troop 316 recently honored three new Eagle Scouts at a Court of Honor ceremony held at Kirk Hall at the Douglas County Fairgrounds. The honorees were Dylan Armstrong of Castle Pines, Joshua Bullock of Castle Pines Village, and William Gray of Highlands Ranch, and they join an elite club.
By Daniel Williams; photo courtesy of David Gray
Created in 1912, the Eagle Scout designation is attained by only four percent of Boy Scouts. Requirements include earning at least 21 merit badges and demonstrating "scout spirit, an ideal attitude based upon the Scout oath and law, community service, and leadership."
American leaders who have achieved the rank of eagle scout include: President Gerald R. Ford, Academy Award-winning film director Stephen Spielberg, U.S. Supreme Court Justice Stephen Breyer, and astronaut Neil Armstrong, the first person to set foot on the moon. Now joining them with the Eagle designation are:

DYLAN ARMSTRONG
Dylan attends Rock Canyon High School (RCHS) and joined Troop 316 when he moved to Colorado from Southlake, Texas. Dylan has held a number of leadership roles including quartermaster, den chief and patrol leader, and represented Troop 316 at SeaBase Bahamas High Adventure in 2016. His passion is teaching and mentoring young Scouts, and when he attends college, he plans to remain active in the Scouts as a program counselor.

JOSHUA BULLOCK
A RCHS student, Joshua has always been heavily involved in camping and traveling with the Scouts. He has attended the Medicine Mountain Scout Ranch in South Dakota and the Camp Melita Island in Montana. In 2017, he achieved the National High Adventure Camp trifecta by hiking the Philmont Ranch in New Mexico, sailing at Sea Base in the Bahamas and canoeing at Northern Tier in Minnesota.

WILLIAM GRAY
Early in his Scouting career, William, a RCHS student, entered and won numerous Pinewood Derby races. Since then, he has turned his attention to service programs such as cleaning up after Hurricane Sandy. William's Eagle Service Project was building and installing six bugle posts for the Highlands Ranch Backcountry trails. These posts serve as a way for the Backcountry staff to communicate with the public about upcoming events.
"The Eagle designation is the pinnacle," said John Armstrong, one of the leaders of Troop 316 and father of honoree, Dylan. "It's a long process to achieve the Eagle, and it's a huge accomplishment and a testament to these boys that they were able to stick with it and reach their goals."
It's also a testament to the leadership of Troop 316, according to John. In 2014, there were approximately 25 scouts in the troop. "Since that time Troop 316 has had ten scouts reach the rank of Eagle Scout," he said. "It speaks volumes about the troop's leadership, the Scouts that comprise the troop, and the support we get through the sponsorship of the Rotary Club of Castle Rock."