Queen Bees enjoy a sold out movie premiere!
June 1, 2013
/
/
Comments Off

on Queen Bees enjoy a sold out movie premiere!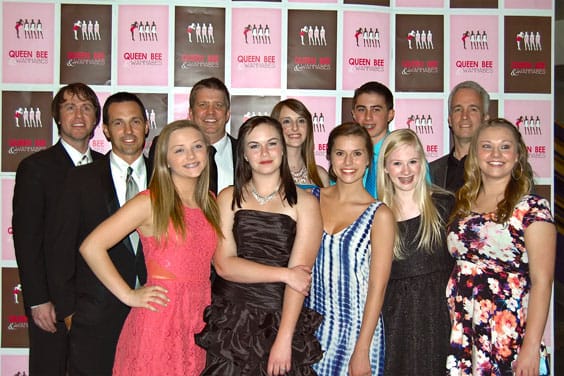 The lead cast members and the three teachers who spent so much of their time overseeing this project are pictured together at the movie premiere. Left to right: Maclain Looper, Tim Ryckman, Blaike Hildebrand, Scott Melanson, Molly Dunn, Ally Harris, Ava Richardson, Wyatt Tournabene, Claire Sweeney, Christopher Gowing, and Michelle Dunker. A Castle Pines resident, Dunker was very complimentary of the three teachers: "Each and every one of them played a different role, and this movie would not have happened without them. They are so talented!"
Article and photo by Amy Shanahan
On May 17 and 18, the red carpet was rolled out, the paparazzi captured the arrival of the stars, attendees posed for the camera, and popcorn and candy were enjoyed during the premiere of the movie "Queen Bees and Wannabes" at Rocky Heights Middle School (RHMS). The premiere of the movie to the community was a wonderful event, with a sell-out crowd of more than 400 people on Friday night, and a full house of 300 on Saturday night. The audience included current and incoming students, parents, staff, and members of the surrounding community.
"Queen Bees and Wannabes" was a film based loosely on the film "Mean Girls," and RHMS Drama teacher Maclain Looper re-wrote the script and made it appropriate for a middle school audience. The film starred, and was completely created, produced, filmed and edited by RHMS students under the direction of Looper, and tech teachers Scott Melanson and Tim Ryckman. Auditions for the cast took place back in September, and filming occurred after school and on Saturdays throughout the entire school year. The project was very time intensive, and the film was being edited up until the week before the premiere. "It almost didn't happen," remarked Melanson. "There were so many shots, locations, and actors, that we were working up until the very end to bring it all together!"
The movie was very entertaining and was full of drama, emotion, and quite a bit of humor. There really was something for everyone in the audience to enjoy. The cast included seven central characters, and many extras. The entire project involved close to 150 students and 20 staff members from RHMS. Students who worked on the film became close and made new friends and built new relationships. Lead cast member and eighth grade student Ally Harris remarked, "It's been so much fun! I've had so many new experiences and I've met so many new people."