RHMS seventh/eighth-grade choir performs with RCHS choirs during feeder Choir Festival
April 1, 2019
/
/
Comments Off

on RHMS seventh/eighth-grade choir performs with RCHS choirs during feeder Choir Festival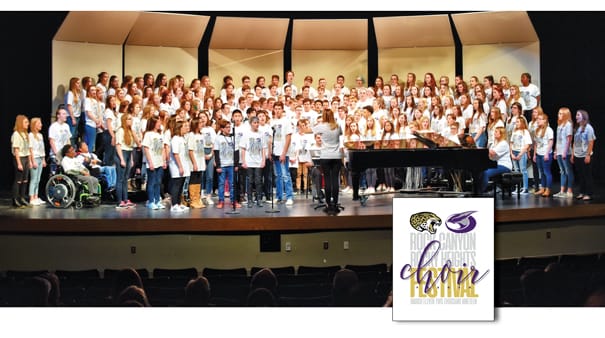 RHMS seventh/eighth-grade choir performed with the RCHS women's and men's Choirs in the 2019 RHMS/RCHS feeder Choir Festival.
By Susan Helton; photos courtesy of Douglas County School District
To wrap up third quarter, Rocky Heights Middle School (RHMS) seventh/eighth-grade choir students were joined by the Rock Canyon High School (RCHS) women's and men's choirs for the 2019 RHMS/RCHS feeder Choir Festival. The concert took place in the RCHS Auditorium March 11.
Before the evening's concert, RHMS Choral Director Deanna Kraft and RCHS Choir Director Julia Dale planned a fun afternoon of feeder events. The RHMS singers were treated to pizza, special event T-shirts that the students wore for the concert, T-shirt signing, and student tours of RCHS. The choir also prepared a combined song with the RCHS choirs and rehearsed on the RCHS stage.
A variety of piano prelude solos started the evening, with music that ranged from classical to movie theme, power ballad to blues. The choir sang a variety of songs, ranging from ballad to world folk songs to the inspirational "Homeward Bound" by Marta Keen. Interspersed between the ensemble pieces, solo pieces showcased individual students.
For the showcase spots, students prepared their pieces outside of class choir time and then auditioned. "There were close to 30 solo auditions, for three spots," said Kraft. Two seventh-graders from 80108, Jaidyn Shirley and Emmie Yu, claimed two of those showcase spots. Yu had auditioned before, but said she was a little more nervous this time because of doing a duet. Shirley said, "I think that auditioning is really fun because each time it's different crowds so you can get different reactions."
Shirley sang "Waiting for Life" from the Broadway musical "Once on This Island" in the evening's first showcase spot. "I really love musicals and I just love singing," Shirley said. In the second of the three showcase spots, Yu performed a duet with Braden McCollam, singing "Only Us" from the Broadway musical "Dear Evan Hansen." Yu said, "Me and my friend were practicing a lot and we just said, 'Hey, you want to do a duet? Because that'd be kind of fun'."
The concert concluded with the combined song that the choirs had rehearsed earlier that afternoon, a beautiful rendition of "Can You Hear?" by Jim Papoulis. Later that evening, the RHMS choir again joined RCHS singers to perform their combined piece at the end of the high school concert. "It's fun to do choir and you should all do it!" said Yu.