RHMS wrestlers step up to the mat for a successful season
January 1, 2017
/
/
Comments Off

on RHMS wrestlers step up to the mat for a successful season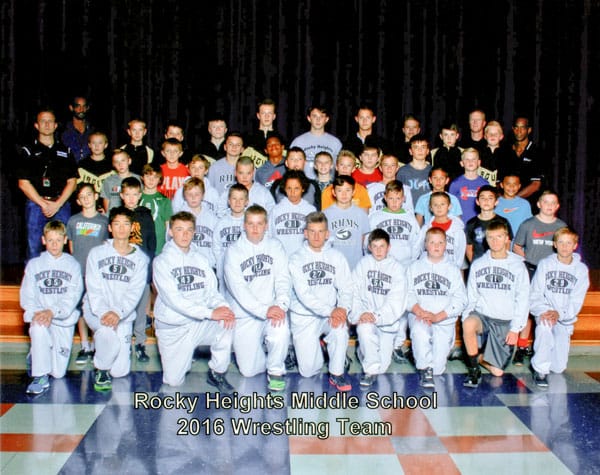 The RHMS wrestling team puts on their game faces for the 2016 season.

By Lynne Marsala Basche; photo courtesy of Richard Diehl
Wrestling at Rocky Heights Middle School (RHMS) has ebbed and flowed over the years. At one point, the school could not field a team due to the lack of a coach. This year, however, was a banner year for the team in many ways.
Wrestler participation topped out at 47 sixth, seventh and eighth grade students, which is the largest team in RHMS wrestling history. Under the guidance and expertise of Head Coach Richard Diehl, Darryl McGowan, Patric McGowan, Brett Stanley, Andrew Raggio and Dave Perry, the team ended the year with the best season in RHMS history with a 4-2 record.
"When I think about this team, I envision them as the building blocks to turning around the state of wrestling in our community and at Rock Canyon," said Diehl. "We worked closely with Rock Canyon, and this team is head and shoulders above any other team that I have coached."
At the December 10 tournament at Highlands Ranch High School, the RHMS Nighthawks placed seventh out of nine teams. While this may not sound impressive, the Nighthawks placed over a third of their wrestlers and had two first-place finishers.
According to Diehl, "The wrestlers are disciplined and willing to get better, but above all they are genuinely great kids that have the leadership skills and dedication to take wrestling in our community to the next level."
"It was fun, and having different coaches to teach us different things was neat," said Castle Pines resident and eighth grade wrestler Colton Brown.
Coach Diehl is certain that this team was led by a special group of eighth graders, and the impact they left on the sixth and seventh graders will carry through the years as the team continues to thrive. Go Nighthawks!