ShadowBox frames memories to last a lifetime
February 1, 2015
/
/
Comments Off

on ShadowBox frames memories to last a lifetime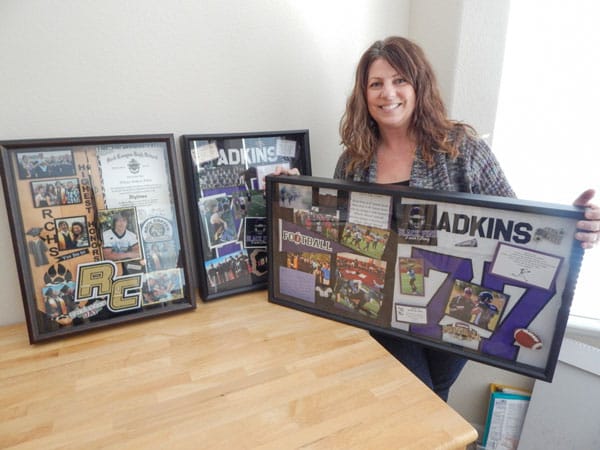 Julie Adkins, 15-year resident of Castle Pines, has started ShadowBox, a business dedicated to compiling all of your special memories from any event and creatively framing them for display.

Article and photo by Lisa Nicklanovich
How is it best to capture a child's sports season, a vacation or other important event in your life? Julie Adkins, a 15-year Castle Pines resident, will creatively organize your special photos and memorabilia into a shadow box which captures the memories forever.
The idea for Adkins' new business, simply called "ShadowBox," came about when her son Andrew (age 14) was wrapping up his final season with the DC Dolphins football team. As the team coordinator, Adkins gathered the parents and they decided to create shadow boxes for each player as well as the coaches. Adkins said, "We decided what better gift for a team memory than a shadow box?"
Adkins has scrapbooked for nearly twenty years, so she had the qualifications to lead 19 moms in creating shadow boxes for their sons, as well as coordinating the creation of boxes for each coach. At the team's year-end banquet, each player was presented with their customized shadow box, capturing the spirit of the season. Adkins said, "Each coach cried. This was a very special team that has played together for many years with quality coaching and wonderful families. Not only was it their final year together, but it was a championship year so there was much to celebrate."
During the process of making the shadow boxes for the team, one mom said she didn't feel qualified to create her son's shadow box. It was then that Adkins realized her hobby and passion could become a business. Adkins said, "A shadow box provides a great memory, but most people have a long list of things to do and the photos and other items just sit in a pile. If this is something a person can't do on their own, or they don't have time to do it, I'm happy to create it."
Adkins' son Nick (age 19) and daughter Lauren (age 18) contributed their artistic talents by creating a logo for ShadowBox. Adkins said, "My kids liked the layouts of the shadow boxes I created for them but they got excited and thought they were really cool when I started adding depth to them." With foam board and glue, items are layered, giving shadow boxes visual interest and dimension.
Adkins' next project is for a client who recently went on an African Safari. Adkins said, "The client has tickets, photos, money used in Africa, art, and beads that will go in the shadow box. I'm excited to get started and capture their trip for them to enjoy for years to come."
For more information and pricing, contact Adkins at julie.shadowbox@gmail.com or visit her Facebook page.