Tech team at RCHS wins national mobile app design competition
May 1, 2013
/
/
Comments Off

on Tech team at RCHS wins national mobile app design competition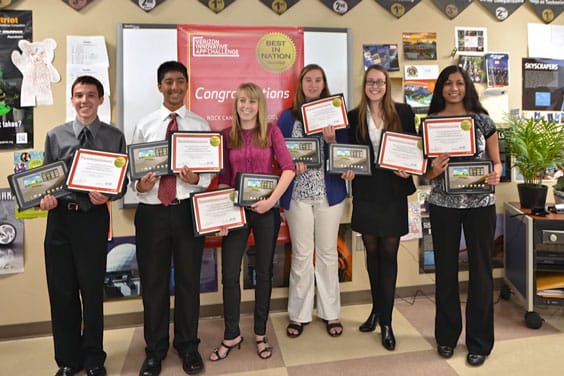 The tech team holding their new Verizon tablets and certificates for winning the national app design challenge. From left to right: Jordan Peters, Rohan Balan, Christy Street (teacher and faculty advisor), Deanne Apke, Adriana Maldonado, and Shivani Chauhan.
By Lisa Nicklanovich; photos courtesy of Christy Street
A team of five Rock Canyon High School (RCHS) students won Verizon's National Innovative App Challenge for their CaringHands mobile app. The app is designed to increase awareness of global problems and allow users to donate directly to charities of their choice.
More than 470 student teams from across the country submitted concepts for the challenge, and RCHS was one of only ten schools named a winner. A $10,000 Verizon Foundation grant to advance STEM education was presented at an award ceremony on April 5. At the ceremony, Adriana Maldonado, a junior and team member stated, "The app was originally designed for Wish Week and the Make-A-Wish Foundation. Jordan Peters came up with the idea to make giving applicable to charities all over the world and to make a community that's bettering the entire world."
Team members each received a Samsung 10.1 tablet and certificate, plus they earned a banner and plaque for the school. Most important to the team, they will receive professional support from Verizon and the Massachusetts Institute of Technology (MIT) Media Lab to bring the winning concept to market.
The students get to train with MIT Professor William Smith to learn their AppInventor tool and then, along with Verizon engineers, they will develop their CaringHands app to make it available for download from Google apps. Maldonado excitedly said, "The students at MIT are idols at RCHS, especially to the technology students. The fact that we're going to work with them – there are no words for it!"
The team will also travel to Orlando, Florida to present their app to the National Technology Student Association conference in June.
Principal Andy Abner exclaimed, "I am so proud of our students and faculty advisor Christy Street for their hard work and commitment to excellence. Winning this award places them front and center on the world class stage. I am certain this is the first of many recognitions for their abilities to excel in the 21st century."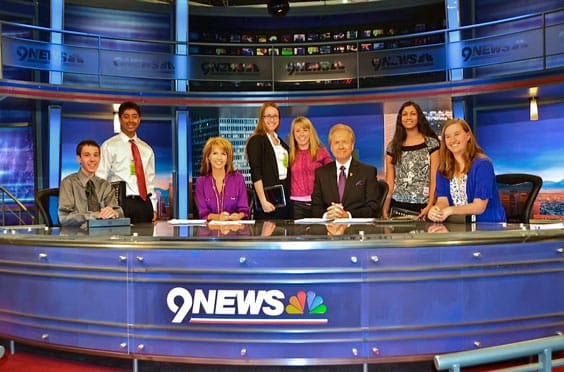 The tech team with 9NEWS broadcasters who interviewed and featured them on the local news.