Then and Now…Castle Pines Storm; what a ride
February 1, 2019
/
/
Comments Off

on Then and Now…Castle Pines Storm; what a ride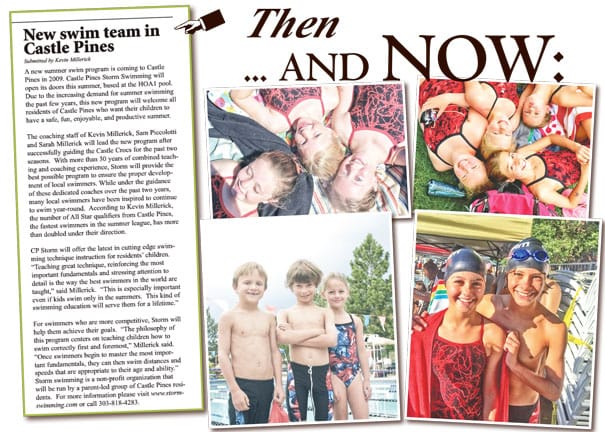 At top, girls will be girls! Castle Pines Storm swimmers and long-time swimming buddies Shayne Polk and Sophia Lush (pictured with Gabi Dyer) in 2015, circled back in 2018, pictured with Maya Amerlan and Kassidy Harris.
Bottom photos, Sam and Claire Isert pictured above in 2010 and again in 2016 (right) are long-time Storm competitors.
By Kathy Fallert; photos courtesy of Noelle Polk
The Castle Pines Storm swim team began 10 years ago in the summer of 2009. As the second swim team to form in the Castle Pines (North) area – the first being the Castle Crocs – Storm formed due to a high demand by residents for summer swim teams.
The first year, eight swimmers were All Stars. The most All Stars in the team's history was the summer of 2017 with 43 swimmers. The team started off with about 100 swimmers, with 70 percent of those being first-time swimmers. Today's balance of mostly experienced kids hovers around 90 swimmers.
The team started off in D division of the Mountain High Swim League. They did not win their first meet until 2012. Storm Board President Matt Amerlan said, "We had a well-respected high school coach, Christina Kwon, from 2012-2017 who really helped build the program."
Storm won its first meet in 2012 in the D division, went 1-4 and placed 4th at championships. In 2013, the team remained in D division and went 5-0 and won championships. In 2014, the team moved up to C division, went 5-1 and won championships. In 2015, still moving up, the team went on to the B division, went 5-0 again and won championships. In 2016, still in B division, went 5-0 and were second at championships. Then in 2017, again in B division, they went 5-0 and won championships. In 2018, Storm was 2-3 in the league.
Amerlan remarked, "My daughter Maya started swimming six years ago at the age of 6 for Storm and quickly fell in love with swimming. My 9-year-old son Aidan swims for Storm as well. There's no other sport I can think of where the age range of the team is 5-18. This is such a special aspect of swimming where the younger swimmers look to the older swimmers for their leadership and guidance and the older swimmers step up and lead the younger ones. These are lessons that help shape teamwork and leadership that the swimmers will apply to the rest of their lives."
Former head coach, Kwon, left the team in 2017 as she was starting her family. Storm had interim co-head coaches and long-time Storm swimmers Jacob Brown and Lauren McKeel, who are both college students, filling the bill temporarily. The team is currently in transition and hoping to find a permanent head coach for their upcoming season later this year.