Trick or treat on and off the street; candy abounds
November 1, 2010
/
/
Comments Off

on Trick or treat on and off the street; candy abounds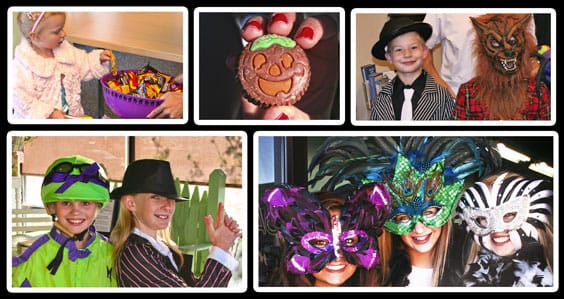 Article by Kathy Dunker with photo collage by Tim Gamble
On a blustery Autumn afternoon, the ghosts and goblins of the Castle Pines community came out in force. Trick or Treat Street, sponsored by the Castle Pines Chamber of Commerce, was an enjoyable way to break into the Halloween weekend spirit.
With 26 businesses participating, kids of all ages donned their costumes and hit the pavement looking for all sorts of goodies. Castle Pines Animal Care Center handed out candy for the kids and included doggie treats for anyone with a canine friend at home. Dr. Matthew Rolfson of Castle Pines Dental Care avoided the candy scene altogether. "A dentist can't hand out candy!" said Rolfson, "But we have pretzels, glow in the dark wrist bands, and some other very fun things in our goodie bags!"
The treats just kept on coming. Castle Pines Orthodontics handed out goodie bags, coloring sheets and provided an opportunity to enter their drawing for Toys R Us gift cards. Meanwhile, the sponsoring Castle Pines Chamber of Commerce was hosting a bingo game complete with prizes. King Soopers, in the spirit of the day, passed out their treats in a witches' caldron with smoke emanating from it. Salon 188 had friendly teenagers in festive garb welcoming the hungry visitors.
White ghosts in the windows of participating businesses guided the way for the trick or treat experience, with chocolates of all types being handed out. Candy, candy and more candy was found while meandering throughout the CPN business district. Costumes ranged from scary to way too cute. "Trick or treat!" and "Thank you!" were the phrases of the day, as kids collected their loot and hit the next stop.
Castle Pines North was not the only hot spot this October. The Village at Castle Pines hosted a celebration of its own. Harvest Fest boasted not only candy but also face painting, pumpkin carving and an actual pumpkin patch. Family fun was had by all!
Several other notable celebrations took place in the late hours before Halloween. Wildlife Experience hosted Trick or Treat OFF the Street, which included a variety of activities for kids of all ages, including spooky stories and creepy crawly crafts. And the Castle Rock Fire Station was all over it with its Castle of Terror at the fire training tower. Frightful ghouls awaited around every corner along the tour route.
All of the excitement was a mere prelude to the night of all nights, the actual Halloween trick or treat experience. Halloween 2010 was, and, yes, weather did permit this year, a night to remember!