TTE fifth graders school audiences on hip-hop
June 1, 2017
/
/
Comments Off

on TTE fifth graders school audiences on hip-hop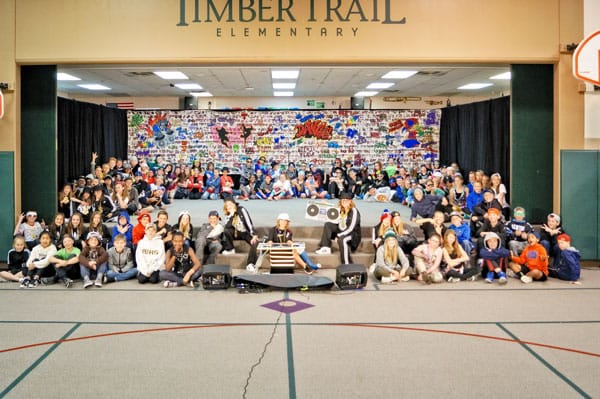 The Evolution of Hip-Hop show included 130 Timber Trail Elementary performers singing and dancing hip-hop songs through the decades.

By Lynne Marsala Basche; courtesy photos
One hundred and thirty fifth grade Timber Trail Elementary (TTE) students ushered in the sixth annual show in early May with the Evolution of Hip-Hop. Students and family were treated to the toe-tapping beats and sights from 1979 through 2016.
With no shortage of Adidas, heavy gold chains, and baseball caps on stage, the hip-hop crew amused audiences with singing and dancing. Songs included "Rapper's Delight," "Pump Up the Jam," "Can't Touch This," "This Is How We Do It," and "Chicken Noodle Soup."
Under the guidance of art teacher Wendy Wilson and music teacher Cindy Berndt, the students voted on the show's theme, and they started practicing as soon as the school year began. With a record number of students participating this year, the direction was practice, practice and practice! The theme and songs were 100 percent student voice and choice, which made the show truly original.
Wilson and Berndt will only have a few weeks to be able to exhale before they begin planning for next year's show. The fifth-grade production has become a much-anticipated event, and upcoming kids are already thinking about their performance!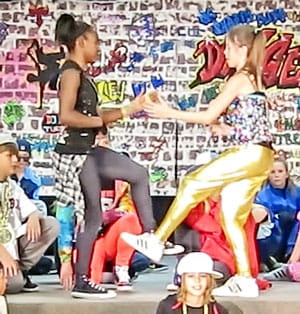 Lidiya Brown and Libby Emery (above) doing the Kid 'N Play dance move to "Ain't Gonna Hurt Nobody" at the 6th annual TTE fifth grade show while organizers Wendy Wilson and Cindy Berndt (below) show their hip-hop style.