TTE students raise funds, stay healthy
June 1, 2014
/
/
Comments Off

on TTE students raise funds, stay healthy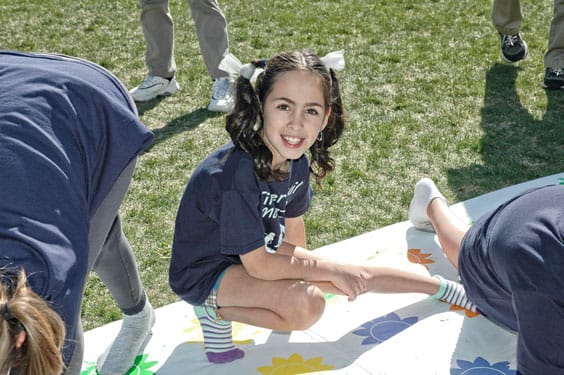 Faith Geiger (above) gets twisted up in a super-sized game of Twister at Timber Trail Elementary's Move-a-Thon last month, while second grader Sawyer Boeke (below) works his hula muscles. The event raised money for the school and gave students a chance to exercise their minds and their bodies.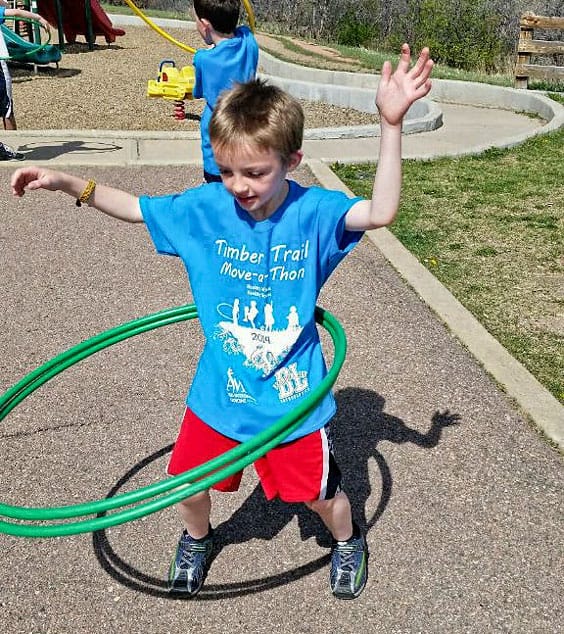 Article and photos by Lisa Crockett
Getting some exercise and making money for a good cause is all in a day's work for students at Timber Trail Elementary. The theme of this year's Move-a-Thon fundraiser was "Healthy Minds, Healthy Bodies," and the focus was on fun.
"I really liked the hula hoop and jump roping," said second grader Sawyer Boeke. "There were a lot of fun activities."
Students solicited sponsors to pay them for an hour of activity, which included everything from shooting hoops to playing giant "Connect Four" games on the school's field. The event also served as the year-end field day.
"The Move-a-Thon is a fun way to earn money for the school while promoting healthy habits for the kids," said the event's organizer Brandi Tsuchimoto. "We added some new games this year, which added to the sense of fun and whimsy."
In addition to student-solicited pledges, local businesses sponsored the event, including Brandon Linn Orthodontics, AIM, IREA, Castle Pines Orthodontics, Colorado Kids Pediatric Dentistry, Bruin Homes, Burg Simpson, Madison & Company Properties, and 360 Fundraising.
"We want to thank our sponsors for supporting the school and the community at large," said Tsuchimoto.
Money earned will be used at the school to refurbish the library and purchase computers and other supplies.