Wellspring Community fundraiser helps reach new goals
October 1, 2013
/
/
Comments Off

on Wellspring Community fundraiser helps reach new goals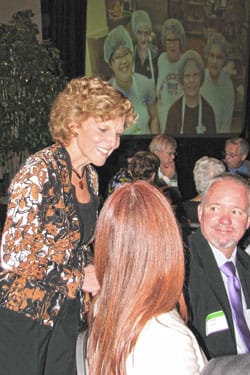 Wellspring Community founder Mary Lou Fenton visits with a guest at "An Evening of Inspiration," the non-profit's annual fundraiser at Cielo at Castle Pines.
Article and photos by Elizabeth Wood West
"No one is more amazed than I am at the incredible growth Wellspring Community has experienced in such a short time," exclaimed Wellspring's founder Mary Lou Fenton. Wellspring recently held its fifth annual fundraiser, "An Evening of Inspiration." Early estimates indicate that Wellspring met its goal of $150,000.
Wellspring is a 501(c) (3) non-profit organization that provides services to young adults with developmental disabilities, including Downs Syndrome, Cerebral Palsy, and Autism.
Fenton said the funds will help pay for the Wellspring transportation program and tuition assistance, as well as general operating expenses. "We are very excited to now have our own 15-passenger van, which will enable more folks to access our programs. We are looking at extending our program hours so we can increase capacity in our commercial bakery. We are exploring ways to develop our horticulture program and operate greenhouses where our participants can plant, harvest, and sell their produce," said Fenton. "Our long-term goal is to have several business enterprises, a center where we will conduct our education and enrichment classes, and develop a project plan for a residential program in The Meadows where our folks can eventually live. All that has been achieved up until this point is a testament to the generosity of our local community and ultimately to God's faithfulness as we trust in Him," added Fenton.
Wellspring Community is located at 826 Park Street in Castle Rock. For more information, visit www.wellspringcommunityonline.org or call 303-660-1935.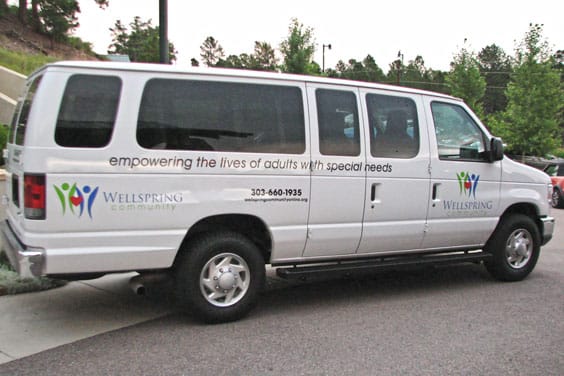 This year's fundraiser will help pay for Wellspring's new 15-passenger van.