Wellspring Community's annual fundraiser focuses on personal success
November 1, 2014
/
/
Comments Off

on Wellspring Community's annual fundraiser focuses on personal success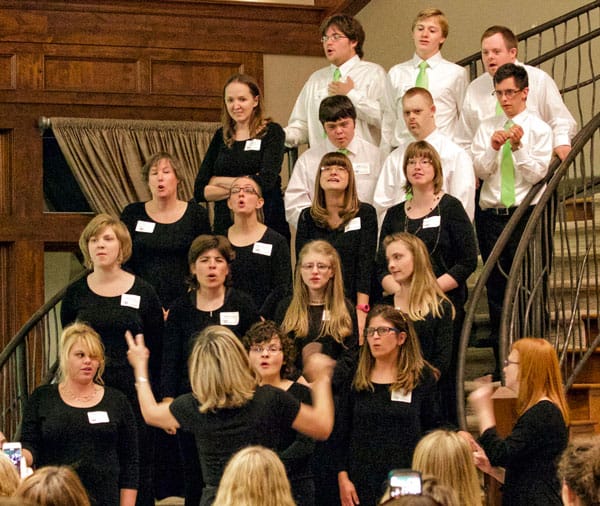 The Wellspring Wonders Choir performed to a packed audience and received a standing ovation.
By Elizabeth Wood West; photos courtesy of Wellspring Community
Wellspring Community (Wellspring) held its sixth annual fundraiser in September and gave its guests a more personal glimpse into the success of this local non-profit organization. Wellspring provides services to young adults with developmental disabilities, including Down syndrome, cerebral palsy, and autism.
The event was held at Cielo at Castle Pines where 260 guests were treated to dinner, live entertainment, and inspiring guest speakers. Wellspring founder Mary Lou Fenton said, "Our program was emceed by our very own director of business development, Marti Jones. Other speakers included pediatrician and Wellspring parent, Dr. Robert Froehlke, who shared about the tremendous value of our Wellspring programs and our long-term vision for residential services."
Traci Griffin, a volunteer self-defense instructor from Omega Martial Arts, talked about her contribution of giving a voice to some of the most vulnerable individuals in society and the skills they need to protect themselves. The real highlights, however, were the participants themselves.
Wellspring's American Sign Language team performed the Nat King Cole song "L-O-V-E" and the Wellspring Wonders Choir performed, "Together Wherever We Go" and "What A Wonderful World." Both received standing ovations.
Jones interviewed several of the young adult program participants and asked them to share about their work in the Best Buddies Bakery, ceramics workshop, greeting cards workshop, Castle Rock Adventist Hospital's community garden, and Wellspring's newest partnership assembling cow magnets with Master Magnetics in Castle Rock.
Fenton said that Wellspring raised close to $150,000 from this year's event.
One of Wellspring's goals for next year is to expand the Best Buddies Bakery's customer base, which already includes Castle Rock Adventist Hospital, Parker Adventist Hospital, Regis High School, Tony's Market, and others. "We're working toward the goal of having our own retail bakery and café where our Wellspring friends can host and serve tables, as well as bake," said Fenton. "We are looking for additional space to expand our ceramics workshop as demand for our pottery increases, and we are in conversation with supporters regarding plans for a greenhouse to expand our horticulture program, as well as plans to develop our much-needed residential program. There is a lot of work ahead of us, but we are making steady progress toward our goals thanks to the wonderful support of the Castle Rock and surrounding communities."
For further information about Wellspring Community, call 303-660-1935 or e-mail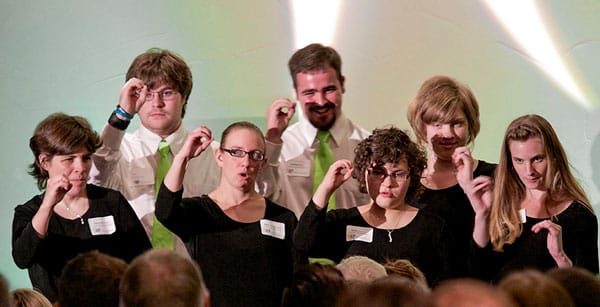 Wellspring Community program participants performed their American Sign Language skills at the non-profit's sixth annual fundraiser in September.