April 1, 2018
/
/
Comments Off

on Wrestling for success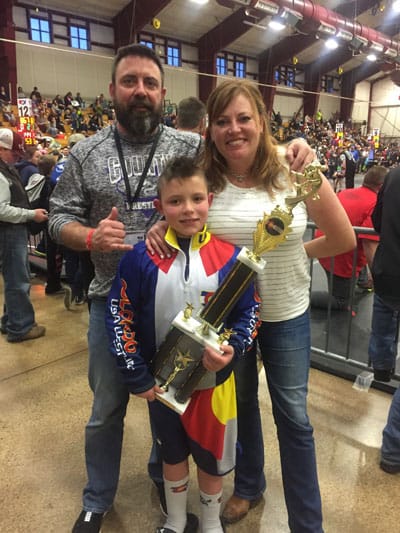 BRE second grader, Evan Ingalls pictured with his parents, took second in state at the Peak 2 Peak State Wrestling Tournament on February 23 in Castle Rock.
By Kathy Fallert; photos courtesy of Kory Ingalls
Second-grader at Buffalo Ridge Elementary (BRE) and Castle Pines resident Evan Ingalls took second place in the eight-year-old and 95.1 to 125 lbs. division in the Peak 2 Peak State Wrestling Tournament on February 23 at the Douglas County Events Center in Castle Rock, where he weighed in at 99 lbs.
Dad Ben Ingalls is the oldest of three boys who all wrestled when they were younger. Grandfather, Roger as well as Roger's father and uncle, all went to college on wrestling scholarships. Following in family tradition, Ingalls started wrestling in the fall of 2015 when he was in the first grade. Ingalls wrestles for the Douglas County Huskies youth wrestling team where his dad is also one of the coaches.
During the season, Ingalls practices two nights a week for 2 1/2 hours each night. There are weekly tournaments that he participates in all over the state. Ingalls has been the Southern Regional Wrestling Champion for the last two years in the Peak 2 Peak youth league.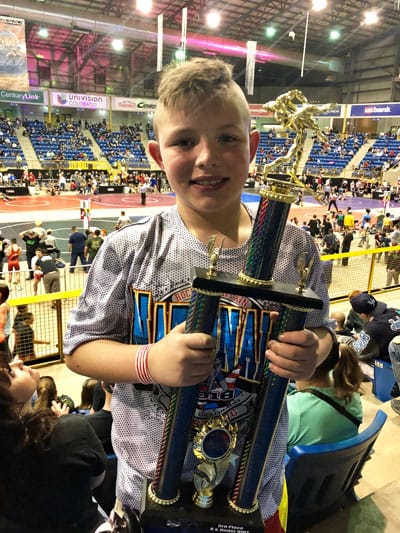 Adding another trophy to his collection, Ingalls placed third in the Rocky Mountain Nationals Tournament in Denver on March 17 where he wrestled as a heavy weight.
Mom Kory Ingalls commented, "The awesome thing about Evan taking second this year is that he came up against an opponent that he had wrestled a few times earlier in the season, and he had never won against him. All season long both Ben and me, as well as his coaches, talked to him about perseverance and how working hard at practice would help him get better and win against this kid… and sure enough he beat him 5-2!"
Ingalls, a strong athlete, also plays tackle football for the South Jefferson County Lions. Ingalls has been asked to be on a Colorado All-Star team that will head to Las Vegas over Thanksgiving to compete in a national youth football tournament. Evan's younger brother, JT, is also a wrestler, but he took this season off to pursue his acting interest in acting. JT will be performing this spring at the BRE production of "Mulan."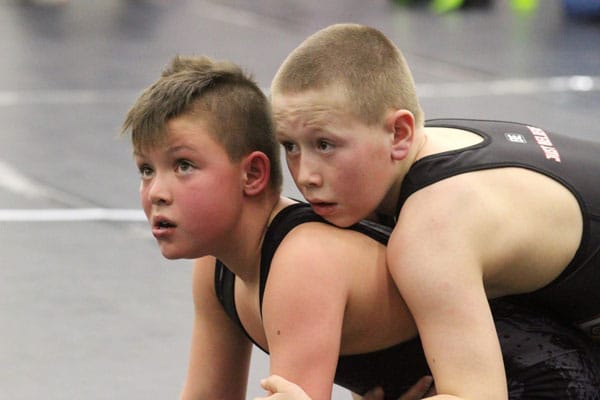 Ingalls (left) comes from a long family line of wrestlers, some of whom went to college on wrestling scholarships. He is a fierce competitior with great potential to follow in his family's footsteps.