December 1, 2010
/
/
Comments Off

on Augustine Grill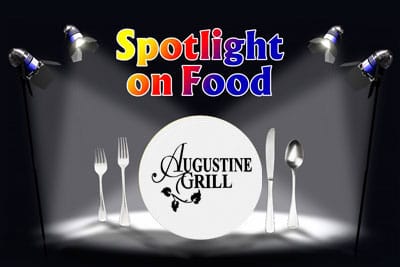 A taste of … Augustine Grill
by Liane M. Davis
On the corner of 6th and Wilcox Street in Castle Rock, you will find a quaint Victorian home that was built in the early 1900's. What waits for you inside will delight your palette and senses with its cozy, charming, elegant design and atmosphere.
Family owned and operated, Augustine Grill started its successful journey in 1997. Owners Mike and Anna Linney have created the perfect ambience for your dining experience, with their friendly staff, warmth, and ability to make you feel like you are in the comforts of their home.
The menu offers a terrific balance of salads, soups, seafood, meat and pasta dishes. The cuisine is "comfort food with a European flare," says Linney. A dinner entrée that you must try, the melt-in-your mouth Augustine Duet, two beef tenderloin medallions placed on garlic-mashed potatoes (mashies) with asparagus and drizzled with luscious Béarnaise topped with a lobster claw meat poached in sweet cream butter. Craving pasta? Try the pasta rags, the chef's homemade pasta tossed with Portobello mushrooms, tomatoes and spinach in a white wine herb sauce. For a lighter dinner, the Augustine house salad, baked brie, calamari steaks or artichoke and parmesan dip make for some delicious bites.
For lunch, enjoy the homemade soups (such as the tomato basil and French onion), quiches, salads (spinach salad or classis caesar) or sandwiches (Italian Panini with prosciutto, capicola, salami and provolone cheese or Hawaiian tuna melt, their albacore tuna salad served open faced with pineapple and provolone on a croissant). If you are craving a burger, you cannot go wrong with a favorite – the Augustine burger topped with bacon, blue cheese and green chilies.
Save room for the house favorite dessert or "sweet temptation," the scrumptious butterscotch bread pudding covered with the delicious homemade caramel sauce topped with whipped cream, or the petite Lemoncello bundt cake, with seasonal fruit and whipped cream. If it is your birthday or your birthday month, let them know and you will get a delectable surprise.
Dine inside by the warmth of the fire during the cold weather and when the cold chills of winter have become a distant memory, Augustine Grill is the place to be for those warm summer nights with its beautifully lighted back yard patio, wrought iron, umbrella-filled tables and whimsical setting. Enjoy happy hour specials on the front patio Tuesdays through Thursdays from 4 p.m. to 6 p.m. with live music Friday and Saturday nights. You may also meander across the back yard patio to Skadoodles, located in the old carriage house, which is a gift boutique filled with unique gifts, treats, home decoration items and local artwork.
Once a month, on select Sundays and Mondays, Augustine Grill hosts a High Tea. With a champagne cocktail to start, they offer delicious fresh baked scones (with Devonshire cream, lemon curd and jam from England), gourmet finger sandwiches (cucumber and herbed cream cheese), sweets and pastries (tea cake with blackberry lemon cream) and, of course, the finest selection of teas.
A full bar with just four bar stools makes it an intimate area to enjoy cocktails, such as the millionaire's coffee, a warm blend of Frangelico, Grand Marnier, Kalua Irish Cream and coffee, topped with whipped cream and their wonderful selections of wine. Stored in a stone cellar, they offer many labels. The many selections include; California, French, Spanish, Italian, Chilean, and New Zealand wines.
Augustine Grill is also the perfect location for weddings, holiday parties, banquets, family gatherings and special occasions. New Years Eve is around the corner. Do not forget to book reservations for this celebration as well as the upcoming wine dinner being held in January.
Augustine Grill is located at 519 Wilcox, Castle Rock. Hours of operation are Tuesday through Sunday, lunch from 11p.m. to 2p.m. and dinner from 5p.m. until close.
For more information on special events, tea dates, wine dinners or to make reservations, please call 303-814-3663. Gift certificates are available. For more information, visit www.augustinegrill.com.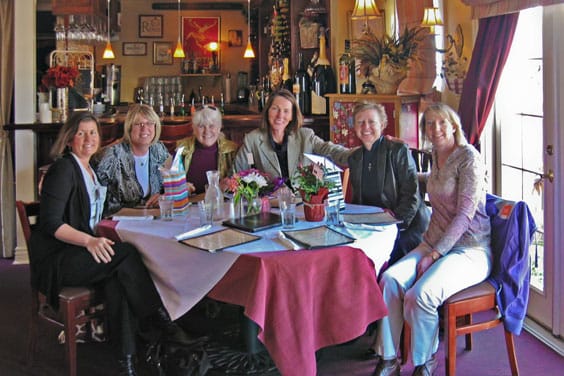 Friends enjoying a leisurely lunch while celebrating a few birthdays at Augustine Grill in downtown Castle Rock.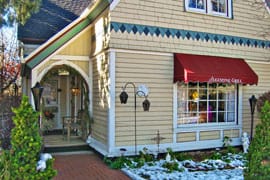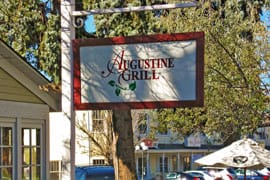 Editor's Note:  Augustine Grill closed its doors for business in 2018.