Acting is a dream for these Regis Jesuit performers
April 1, 2014
/
/
Comments Off

on Acting is a dream for these Regis Jesuit performers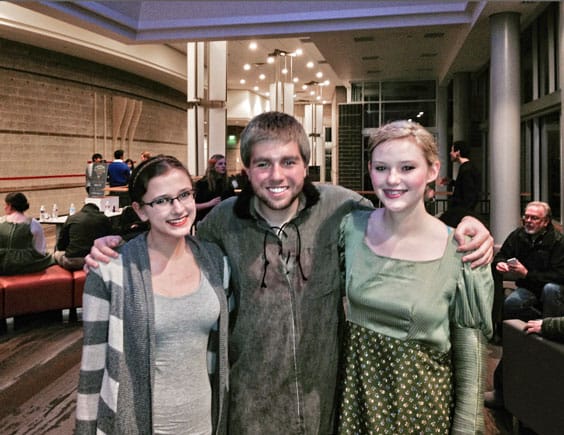 Castle Pines residents (left to right) Nora Gentile, Timothy Toole and Alexis
Wilderman performed in the play "Life is a Dream" at Regis Jesuit
High School and received outstanding reviews.
By Amy Shanahan; photo courtesy of Patti Toole
Over the weekend of March 14 to 16, Regis Jesuit High School (RJ) was proud to present the play "Life is a Dream," written in 1635 by Spanish playwright Pedro Calderon de la Barca. Three students from Castle Pines were thrilled to be a part of this production, which was the first theatrical performance to take place in RJ's Z Theater in the newly constructed Performing Arts Center and Student Commons.
"Life is a Dream" is a story that examines the conflicts between dreams and reality, free will and fate, and fathers and sons. Although it was written centuries ago, the story speaks to many current-day themes and situations. The play was performed in the new 485-seat Z Theater at RJ that was completed in February of this year.
Sophomore and Castle Pines Village resident Timothy Toole played one of the starring roles and spoke of his excitement at performing in the new theater. "Rehearsing and performing in the new theater has been unreal. Being able to work with the space and have solid blocking on the stage a week before the show was really helpful. When we performed in our own theater, it was just so cool. It was an awesome experience!"
Castle Pines residents Alexis Wilderman and Nora Gentile also performed in the show. "Life is a Dream" was the second show that freshman Wilderman has participated in. "I think for each show I've been in, my favorite part is getting close to the cast and crew. We truly become a family," remarked Wilderman. "And this was an amazing opportunity to be in the first cast to perform a show at the new Performing Arts Center!"