Boys team charity celebrates another great year
June 1, 2015
/
/
Comments Off

on Boys team charity celebrates another great year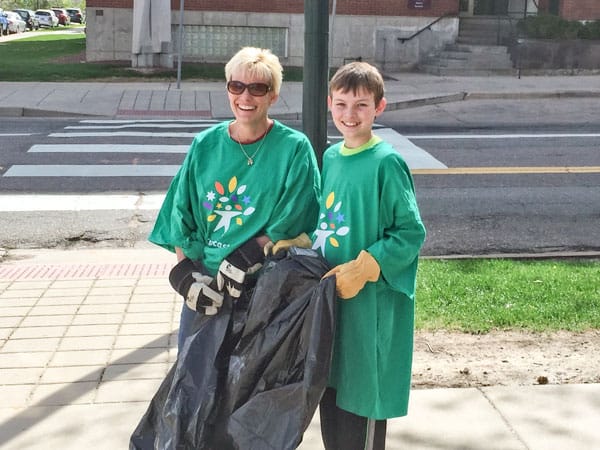 New members of boys team charity Mile High League Nicole and Ryan Wight of Castle Pines participated in Comcast Cares Day at Denver Health on April 25. The team picked up trash around the hospital grounds, cleaned out flower beds and planted new flowers.


By Lisa Nicklanovich; photo courtesy of Lesley Gibson
Castle Pines residents have recently become new members in the boys team charity Mile High League (btc) and participated in two events in April which celebrated the end of their 2014-2015 year. Btc Mile High League Treasurer and President-elect Karin Miller of Castle Pines Village said, "We are so proud of the boys' efforts and the impact they are making across our community." At least one-third of the new btc membership is from the Castle Pines area. "It's wonderful to see the league growing and thriving and to have so many families from Castle Pines getting involved," added Miller.
At the April 12 general meeting, former NFL running back Reggie Rivers, who played six seasons with the Denver Broncos during the 1990s, spoke to the boys about positive leadership. Rivers used football as a means to relate life skills to btc members who are in grades 7 through 12. Rivers talked to the boys about what it means to be a leader, the importance of having a vision, earning others' trust, being predictable, and being optimistic and forward thinking.
Three lucky boys were randomly selected to receive autographed footballs from Rivers at the end of his presentation: Paul Gibson of Castle Pines, Elijah Smith of Surrey Ridge, and Jimmy Arnold of Centennial. Gibson said, "Winning the football was cool and I like btc because I am able to meet new people while serving the community."
On April 25 btc members gathered at Denver Health Medical Center for Comcast Cares Day. Together with more than 90,000 volunteers nationwide, the boys and parents helped with gardening, general cleanup, making books for sick and injured children, transporting newborn essentials to the Newborns in Need bag-making room, sorting DVDs and books in the family center, and more.
Btc is a philanthropic organization for boys and their parents, whose mission is to develop an altruistic spirit in young men through active participation of parents and sons in philanthropic projects in their communities. Gibson exclaimed, "Join btc because it's a good way to get community service hours to graduate high school and it's a lot of fun working with other people and organizations that could use our help."
For more information, visit www.btcmilehigh.chapterweb.net.