City to Celebrate its First Birthday
February 1, 2009
/
/
Comments Off

on City to Celebrate its First Birthday
By Lane Roberts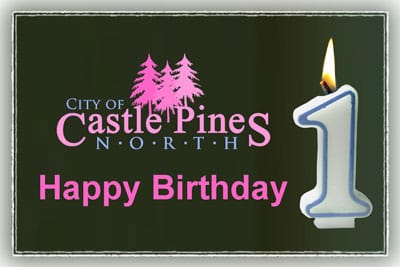 On February 12, Castle Pines North (CPN) will officially celebrate its first birthday.
Douglas County has continued to provide services to the community following the vote to incorporate on November 7, 2007. Now, with the one year anniversary rapidly approaching, the City is set to take the reigns.
"As they take this big step in Februrary, the County is committed to the success of the new City of Castle Pines North," said Douglas County Commissioner Steve Boand.
Following the election on February 12, 2008, the City's first nine officials were sworn in on March 10, 2008, and held their first council meeting that same day.
Since that time, the City has moved forward rapidly with dozens of projects. They immediately established a city planning office and quickly passed a series ordinances to get the city's revenue sources in place.
City representatives also voted to re-zone the Lagae Ranch parcel and continue to develop necessary inter-governmental agreements to ensure police protection and public works continue. They have also appointed a new city service provider, CH2M HILL OMI, along with a new city manager, Alan Lanning. The city council has also undergone a detailed budgeting process for 2009, utilizing revenue sources developed in early 2008.
All nine elected representatives have spent the past year establishing the groundwork for the new city and have volunteered countless hours of time.
"I want to say thank you to this extraordinary group of people who have all come together and contributed so many volunteer hours – hundreds of them – on behalf of the city. They have served not just with dedication and preserverance, but gusto," said Ward 3 City Council representative Ron Clark. "We are all just beginning and it has turned out to be a pretty good group of folks. Although there has been conflict with resolution and agreement and disagreement along the way, we were constantly pursing the same goal – a city that works for all residents."