Douglas County Libraries celebrates volunteers & National Volunteer Month
June 1, 2018
/
/
Comments Off

on Douglas County Libraries celebrates volunteers & National Volunteer Month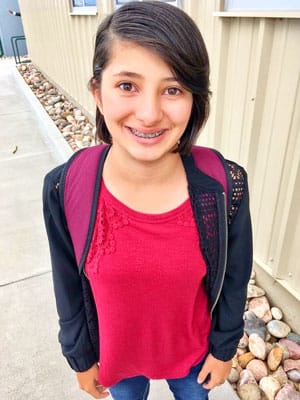 Fourteen-year-old DCS Montessori eighth-grader Jaden Sherman was awarded the President's Volunteer Service Award for her volunteer service at Douglas County Libraries – Castle Pines.
Information provided by Douglas County Libraries; photo courtesy of Jaden Sherman
April was National Volunteer Month and Douglas County Libraries (DCL) honored its volunteers for their dedication to the library district and community. Among the recipients was 14-year-old eighth-grader from DCS Montessori, Jaden Sherman, who volunteers at the Douglas County Libraries – Castle Pines.
The library recognized 102 volunteers who earned a President's Volunteer Service Award, a national award presented by the President's Council on service and civic participation that honors those who, by their commitment, inspired others to engage in volunteerism.
Only 10 volunteers, however, were honored with the highest "gold" award. The winners received a certificate, a letter signed by President Donald Trump and a lapel pin indicative of their award level – Jaden was among the gold winners.
When asked what got her interested in volunteering, Jaden responded, "I actually wanted to find a way to help people. I walked to the library every day and I started asking [about volunteer opportunities] at the library, and we just set a plan and did it."
About her duties at the library, Jaden said, "Sometimes I help with crafts, sometimes it's just doing some cleaning, or mostly fun things. It is cool because there are other programs where you can help children read, and the library has a lot of great projects and classes and things for the community."
Outside of her volunteer work at the library, Jaden enjoys playing sports, especially basketball. She goes to the UFC gym two or three times a week to train and work out. She has been a student at DCS Montessori since pre-kindergarten and says she loves it. English is her least favorite subject at school, which she says is ironic because she volunteers at a library and she loves books!
DCL volunteers assist the library district in many ways, including helping to shelve materials, reading to children at Douglas County day care facilities, tutoring students in English as a second language, assisting with library events, helping maintain the audiovisual collection, coordinating the library's Second Chapter Used Bookstore, and more.
"Our volunteers play an integral role in sharing our passion and commitment to our community," said DCL's District Volunteer Services Supervisor Ali Ayres. "Their volunteerism strengthens our nation as a whole and teaches valuable lessons to today's youth about giving selflessly to others."
To learn more about volunteering at Douglas County Libraries, visit VolunteerConnectDC.org.