Law enforcement communities gather to support Douglas County Detective Dan Brite
December 1, 2016
/
/
Comments Off

on Law enforcement communities gather to support Douglas County Detective Dan Brite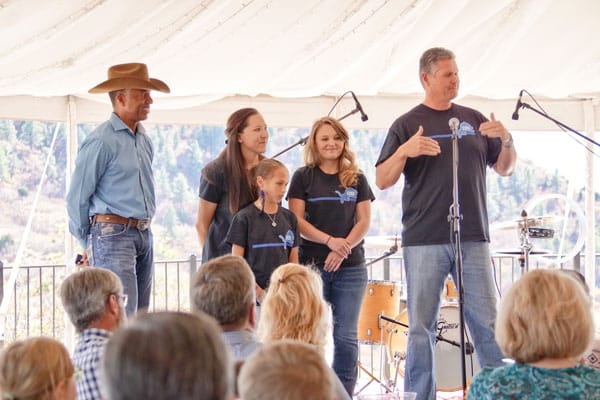 Cherokee Ranch & Castle Executive Director James Holmes is joined by Douglas County Detective Dan Brite's wife Christine and daughters as the detective's brother Steve Brite provides an update on the officer's injuries.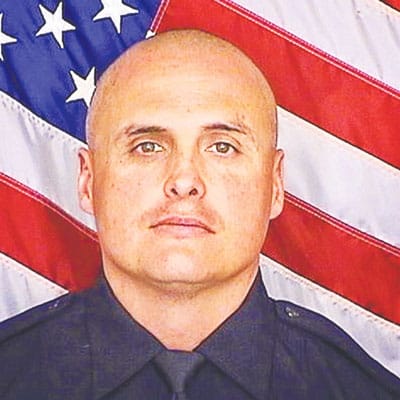 Detective Dan Brite

Article and photo by Elizabeth Wood West
There was a special gathering at Cherokee Ranch & Castle (CRC) in Sedalia in October; more than 200 people came together for one purpose only — to raise funds for Douglas County Detective Dan Brite. Brite was shot and critically wounded on September 2 after a shootout with a suicidal suspect near Sierra Middle School in Parker. Brite suffered a number of internal injuries and is paralyzed due to spinal trauma; however, because his spinal cord was not severed, his doctors remain very optimistic about his recovery.
The gathering included Douglas County Commissioners Roger Partridge, Dave Weaver, and Jill Repella; Douglas County Sheriff Tony Spurlock, Under-Sheriff Holly Nicolson-Kluth and other law enforcement officers; Brite's wife Christine, their daughters and brother Steve Brite; friends, business owners, CRC staff, and residents from all over Douglas County. The Dearling Band and Jeff Anderson (from the hit TV show "The Voice") provided entertainment for guests. A buffet lunch was provided by Angie Hooper, owner of Patty Ann's Café, Lisa Storey, owner of Mama Lisa's Little Italy & Fine Catering, and Pam Randall, owner of The Bundt Shoppe. Silent auction donors included Cherokee Ranch & Castle Foundation, The Denver Broncos, The Castle Pines Connection, Castle Pines Business Exchange Leads Group, Backcountry Wilderness Area, Aspen Grove Salon, Cindy Welch, Cindy Kessinger-Wenniger, Lone Tree Arts Center, Parker Arts Culture & Events (PACE), Denver Ballet Theatre, Wendle Cummings Aflac representative, and Gabriel's Restaurant and Tuscan Bar.
CRC Executive Director James Holmes and wife Wendy Holmes (Douglas County Director of Public Affairs) came up with the idea of using CRC as the venue and collaborated with the Douglas County Sheriff's Office for the fundraiser. "Under the leadership of Sheriffs Acree, Weaver and Spurlock, Douglas County residents have had quality policing. When an officer is harmed, it's an assault on the whole community. More than 1,000 people showed up at the hospital when Detective Brite was shot. We wanted to do something to help," said Holmes.
Proceeds from ticket sales, silent auction, and miscellaneous donations resulted in $11,000 for the Brite family. Donations to the Brite family can be made through the Fallen Officer Fund of Douglas County Foundation, a Colorado 501(c)(3), tax exempt charitable organization (see related story page 18). Donations are tax deductible under Tax ID #20-5599045. Visit www.DCSheriff.net or send donations to Fallen Officers Fund, attention Sergeant Ron Hanavan, 4000 Justice Way, Castle Rock, CO 80109. Additionally, an account has been opened for Dan Brite at the Rocky Mountain Law Enforcement Credit Union (RMLECU) for donations, called the "Dan Brite Fund." You can either make a deposit from any credit union, attention the "Dan Brite Fund," or go to the RMLECU and personally deposit funds into that account. A GoFundMe account has also been established for the Brite family; visit www.gofundme.com/danielbrite for more information.