Local market offers keys to a successful holiday meal
October 1, 2011
/
/
Comments Off

on Local market offers keys to a successful holiday meal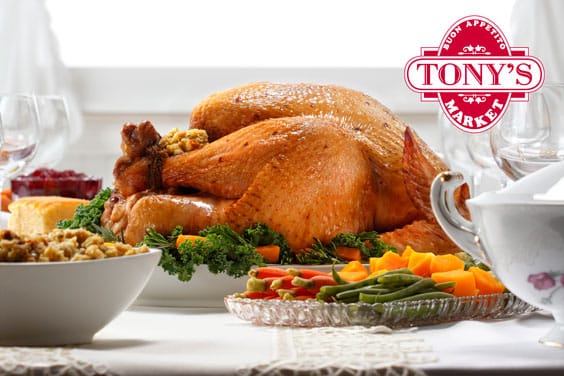 By Lisa Crockett
Thanksgiving is all about tradition – turkey with all the trimmings, buttery rolls and fluffy mashed potatoes, and of course a piece of pie slathered in whipped cream to top it all off. But even though these foods have been part of the national cannon of traditional foods for centuries, they can seem new and difficult each and every year, even for an accomplished cook. But Tony's Market, located in the Village at Castle Pines Shopping Center, has been helping Colorado families prepare the perfect Thanksgiving for more than 30 years, and is ready to help.
"Most people only make Thanksgiving foods once a year, so it can be hard to remember how to make certain things for the meal," said Tony's Market Corporate Chef Mick Rosacci. "Thanksgiving should be a special family event and the key to staying relaxed and enjoying the holiday is some advance planning."
Rosacci recommends that holiday meal planning may include some pre-holiday trial runs, making small batches a few weeks before guests arrive of items you'll serve to ensure that things will go smoothly. Another important part of a delicious feast? Quality ingredients.
"Our turkeys are all natural; many other turkeys that are commercially available are injected with a solution of chemicals, salt and water, but not at Tony's. We feel a natural turkey tastes better," said Rosacci.
Once you have a good quality turkey (plan on one to two pounds of turkey per guest) Rosacci says there are a few tricks to a great-tasting, moist bird. First, get a good quality digital meat thermometer (available at Tony's and other retailers for about $20) and cook the turkey to 165 degrees. Don't be alarmed if there are a few pink spots, the internal temperature is your best guide and will eliminate the need to guess about whether or not the turkey is safe to eat. Rosacci also recommends "brining" your bird – soaking it overnight in a solution of water, salt, sugar and spices. Brining blends, which are mixed with water at home, are available at Tony's. Because the turkey breast will cook faster than the other parts of the bird, placing the turkey upside down in the roasting pan allows the rest of the bird to cook before the breast dries out. Finally, don't forget to let your turkey "rest" after roasting – cover it with foil and then a clean kitchen towel for about 30 minutes to allow juices to re-distribute through the bird.
Because turkey and gravy can pose the greatest challenge to Thanksgiving cooks, Rosacci's recipes and recommendations are printed here, as well as a link to some YouTube video demonstrations. Dozens of other recipes for holiday fare are available on the Tony's Market website.
And what if you like to eat, but don't particularly want to cook? Rosacci has a solution for that problem too.
"We offer completely prepared meals, which include turkey as well as complete side dish packages and a la carte items," he said. "With our complete meals we offer a regular roasted turkey, or for a different twist, a Cajun deep-fried turkey."
Tony's Market is located in the Village at Castle Pines, 874 West Happy Canyon Road. For more information about Tony's, visit www. tonysmarket.com.
Chef Mick Rosacci's Tried-and-True Thanksgiving recipes
Classic Oven Roasted Turkey
(www.youtube.com/TonysMarketDenver)
1 fresh, Natural, Turkey (allow 1-2 lbs per person)
1 bag Tony's Turkey or Pork & Poultry Brine*
1-2 lbs each onions, celery & carrots
Tony's Roasted Turkey or Pork & Poultry Rub
Cooking oil spray
1 stick unsalted butter
4-6 cups very low sodium turkey stock
Brine turkey the night before according to package directions, if desired. (See note below)
Estimate roasting time, allowing 15 minutes per pound of turkey and 30 minutes for resting time (add one hour if stuffing your bird). Ninety minutes before time to roast, rinse and drain — rest at room temperature. Preheat oven to 350°.
Coarsely chop enough veggies to cover the bottom of a heavy roasting pan. Nestle roasting rack and turkey over vegetables. Season bird inside and out with Tony's Roasted Turkey or Pork & Poultry Rub and mist with oil. Add two cups HOT turkey stock to pan and place in the center of preheated oven.
Melt butter with two to four cups of stock to make basting jus. Check turkey every 45-60 minutes; baste generously with warm jus to assure the pan doesn't cook dry. If browning too quickly, tent with foil.
About three quarters of the way through estimated roasting time, start testing internal temperature in the deepest part of the thigh – your turkey is fully-cooked, perfectly safe and the moistest possible at 165°-175°, but may still have some pink meat and reddish bones – some prefer to roast 180-185° to avoid this.
Remove turkey to a platter, tent with parchment or foil, cover with a towel and rest for 30 minutes. Slice & serve with defatted drippings or gravy.
Notes:
Brining: Seasons the bird inside and out, increases moistness and aids in browning – optional but highly recommended.

Inverted Roasting: The breast cooks faster than the thighs, so for the moistest breast possible, roast breast down the first two thirds of cooking time and breast up for last one third — basting and a convection fan will increase breast browning.
Stuffing: Turkeys cook more evenly un-stuffed – if stuffing, do so with HOT dressing immediately before placing in oven. Dressing can be roasted in a separate pan dotted with plenty of butter and doused with rich turkey stock for that "stuffing in the bird" flavor.
Classic Turkey Gravy
(www.youtube.com/TonysMarketDenver)
Pan drippings from a roasted turkey
1/2 – 3/4 cup dry white or rose wine, Vermouth or Madeira
2-4 cups rich, very low sodium Turkey or Chicken Stock
1/2 – 1 cup Whole Milk or Half & Half
All purpose flour, as needed
Strain turkey drippings into a measuring cup and remove fat. Place roasting pan over a medium-high flame and de-glaze with wine. Add defatted drippings and rich turkey stock to taste (two to four cups depending on how much gravy you want – please see 'Stock Notes' below) and simmer/reduce until the taste is deep and rich.
Allow one-and-a-half tablespoons flour for every cup of total liquid. Whisk flour into a half to a cup of COLD milk or half & half until smooth. Temper flour slurry into simmering stock (whisk 1/2-cup hot stock into flour slurry, and then slowly whisk warmed slurry into hot stock). Simmer five to ten minutes to thicken, whisking regularly. Strain any lumps and serve.
Chef's Notes: Great gravy demands great pan drippings, see Classic Oven Roasted Turkey recipe and notes for tips. Can also be thickened with cornstarch, arrowroot or Wondra Superfine Flour.
Stock Notes: Salty stock will lead to salty gravy and dressing – we strongly suggest homemade stock or More Than Gourmet concentrated turkey or chicken stock (Glace de Volaille or Glace de Poulet), they offer lots of natural turkey flavor with VERY low sodium. To make "Rich Stock", re-hydrate each 1.5 oz package of More Than Gourmet stock with two cups of water. Homemade Turkey Stock recipe available at www.TonysMarket.com.
The Ultimate Turkey Dressing
Chocked full of goodies, there's something in this dressing for everybody!
1 pound loaf of bread (Ciabatta preferred)
1 pound bulk pork breakfast sausage
1 stick butter (8 TBS) (see notes*)
8 cups chopped medley of celery, carrots and onion
4-8 oz fresh mushrooms, sliced
2 cups roasted pecans, chopped
1-2 apples, chopped
1 cup dried apricots, chopped
1 cup dried cranberries
1 TBS rubbed sage
2 tsp dried marjoram
1 tsp dry or 1 TBS fresh thyme
1 tsp sea salt, separated
1/8 tsp freshly ground nutmeg
4 eggs, lightly beaten
1 1/2 cups rich low sodium turkey or chicken stock (or as needed – see notes**)
Cut bread into one-half to three-quarter-inch cubes and toast lightly under broiler. Place in a large bowl. Brown sausage in a large skillet, remove with a slotted spoon and add to bread. Melt butter along with sausage drippings in the same skillet, adding eight cups veggie medley along with 1/2 tsp salt and sauté for 15 minutes. Add to bread along with sliced mushrooms, pecans, fruit and seasonings and toss to combine. Stir eggs in well, and then stir in stock – adjust stock as needed**

Dressing on the side: Place dressing into two large buttered casserole dishes, dot with additional butter* or mist with oil. Spread butter on parchment paper and tent dressing. Roast until hot and lightly encrusted (for a softer finish, cover with foil before roasting).

Stuffed Turkey: Heat dressing in the microwave and gently stuff into turkey immediately before roasting, any extra dressing can be roasted on the side.
* Butter Notes: This is a relatively low fat dressing recipe, to make the dressing truly memorable, dot the top of each pan of dressing with another half to one stick of butter – after all, this is a special occasion!

** Stock Notes: The actual amount of stock you will need really depends on the bread – add more stock as needed, the crumbs should be very moist, especially when the dressing is roasted outside of the bird. Taste before serving, more hot stock can be added at the last minute to make the dressing as moist as you like.
I suggest More Than Gourmet brand stocks reconstituted with only half the water to make rich low sodium stock. Their turkey stock is called Glace di Volialle, if not available, use their chicken stock (Glace di Poulet). We also have homemade low sodium stock at Tony's.