"Medic Unit" Returned to CPN Fire Station
August 1, 2007
/
/
Comments Off

on "Medic Unit" Returned to CPN Fire Station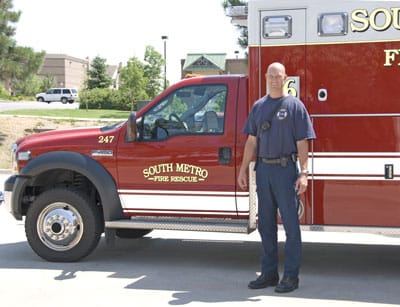 by Terri Wiebold
South Metro Fire Rescue (SMFR) has undergone some major changes in the past few months, but one change is of particular interest and benefit to residents in the Castle Pines North (CPN) community.
On July 15, the ambulance once based at Station 36 – located at 421 Castle Pines Parkway – returned and is providing advanced life support capabilities to CPN residents once again.
"Medic 36 will provide paramedic-level advanced life support and the ability to transport patients to area hospitals," stated SMFR chief, Mike Dell'Orfano, in a letter to Master Association president Maureen Shul. He continued by stating that this addition should also reduce response times to the proposed Station 43 area (Monarch Boulevard and Hidden Pointe), since medic units are faster and more mobile.
In November 2003, SMFR made the decision to move the ambulance from station 36 to station 39, located at 475 Happy Canyon Road. Operations chief at the time, Dennis Wheling, said it was an attempt to more centrally locate the advanced life support equipment because SMFR also served the Sedaia/Louviers area. The move left station 36 with EMT-Bs (Emergency Medical Technicians) who were qualified to administer basic life support functions only.
After several meetings with representatives from the CPN Master Association, SMFR added a defibrillator, a life pack, and a 24/7 paramedic to the engine at station 36, making it a "paramedic engine." The paramedic engine has been serving the medical needs of CPN residents since that time. With the return of medic 36, the station will again have an ambulance and transport capabilities.
Does this change impact SMFR's commitment to build a new station at Monarch Boulevard and Hidden Pointe?
According to Dell'Orfano, "it is appropriate and our responsibility to keep questioning this decision [to build the new station] all the way up to the last minute."
To help SMFR answer these difficult decisions, it recently hired Emergency Services Consulting, Inc. (ESCi) to look at the current and future needs for resources across the entire fire district. ESCi released its Current Deployment Analysis Report on May 30, 2007.
According to Dell'orfano, "At this point, we recognize that our level of service can improve to the proposed Station 43 area, but need additional time to decide if building a new fire station in that neighborhood is the right choice."
"We are extremely concerned about this area having no fire station, especially in the northern part of CPN and with the added growth," said Master Association President Maureen Shul. "We do not plan to allow this situation to just go away without making sure the needs of CPN are addressed," she added.
Time will tell if SMFR's commitment to the CPN community to build the new station will come to fruition. In the meantime, CPN residents will hopefully rest easier knowing an ambulance is not just a 9-1-1 phone call away, but right in the CPN community.
To learn more about SMFR, go to news archives at www.cpnhoa.org.