More than a decade of dedication to the kids in Castle Pines
April 1, 2011
/
/
Comments Off

on More than a decade of dedication to the kids in Castle Pines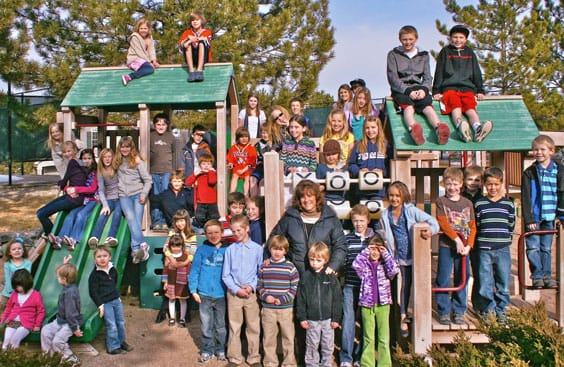 Kids of all ages joined Sarah Byrne (pictured center) at the HOA2 playground in Castle Pines to celebrate a generational reunion of sorts. Byrne has provided pre-kindergarten and kindergarten enrichment programs in the community for more thirteen years, and she is a beloved teacher and friend to many.
Article and photos by Elean Gersack
Three simple words – photo, celebrate, Mrs. Bryne – quickly spread though the community and people came out in droves. Kids and parents filled the playground in HOA2 for the reunion in February. Hugs, stories, and gratitude filled the air.
Parents and students from past and present agree that Sarah Byrne is something of a Castle Pines icon. "She truly is a gift to this neighborhood," said Lynn Zahorik, friend and mother of Byrne's former student, Claire.
For thirteen years, Sarah Byrne has been teaching and inspiring children, while forging family friendships by way of her pre-kindergarten and kindergarten enrichment programs. This is an extra special year for Byrne. Not only will she will celebrate her youngest son's high school graduation, she will also reflect on former students as some make the journey to life after high school, too.
A Colorado native, Byrne received a bachelor's degree in psychology from Colorado State University, followed by a master's degree in special education from The University of Northern Colorado. With her education and teaching certificate in hand, Byrne spent the next 13 years in the Denver and Phoenix school systems teaching special education, as well as primary and secondary education.
In 1997, Byrne and her family moved to Castle Pines [North]. Within a year, she created a school in the basement of her home, based on the need for extended kindergarten in the community. Byrne's son, George, was in her first class. Byrne recalls that deciding to start a home-based school program gave her the best of both worlds. "I was able to balance being a teacher and a mom," she said.
Within a few years, Byrne migrated her program into what it is today: two half-days of kindergarten enrichment (T, Th) and three half-days of pre-kindergarten (M,W,F), with both sessions lasting from 8:50 a.m. to 12:50 p.m.
Licensed by the State of Colorado for in-home pre-school, Byrne maintains a low teacher-to- student ratio of six pre-k students and eight kindergarten students.
"Because there are only a few kids in class, there is more time devoted to each child and that makes such a difference in their learning," stated Lee Ann Hilgendorf, mother of former student, Savannah.
In addition to teaching reading, writing, math and science, Byrne weaves in plenty of art, crafts and music while guiding social and emotional skills in a comfortable atmosphere. Simply put, "she is the total package," states Jennifer Dunbar, mother of former student, Jane, who is now 12.
Jane Dunbar recalls the fleece scarf she made at Mrs. Byrne's and happily shares that she still sleeps with it today. Kelcey Beckman, now 13, remembers all of the hugs and how Mrs. Byrne lifted her spirits up whenever she was down. Current student Avery Pollock says, "What I love most about Mrs. Byrne's class is the reading room. Sometimes I read in the tent and sometimes on the comfy couch!"
A few of Byrne's favorite units include Christmas Around The World – celebrating traditions of 10 countries during the holidays; Community Helpers – learning about jobs around the community and what each has to offer; and her End of Year Play – a collection of learning from the entire school year acted out in fun and memorable skits. "She puts on the best parties ever," said former student, Jacob Beauchamp.
"She is everything you would want an educator of your young child to be. My son learned so much from her, and at the same time got a warm, loving, nurturing environment, too," said Jessica Tisdale, mother of former student, Caden.
"I teach how I would want someone to teach my own child," said Byrne. Through the years, Byrne's program has been a household name in pre-school family circles. Her waiting lists fill solely from referrals and as long as there are students, she will teach.
During the years, Byrne has been fortunate to have a job that has allowed her time to devote to her two sons. From Boy Scout den mom and Odyssey of the Minds leader to after-prom party champion and sporting event cheerleader, Byrne has been there for it all.
Byrne is understated when asked about her significance in Castle Pines. She quickly notes that she is only one of several in-home school providers in the area and feels a bit embarrassed about the attention and recognition. "I feel fortunate to have developed true friendships with my families and to have the opportunity to watch my students grow-up," said Byrne.
Sarah Byrne's school is located in the City of Castle Pines in the Kings Crossing neighborhood. She can be reached at 303-814-8377 or via e-mail.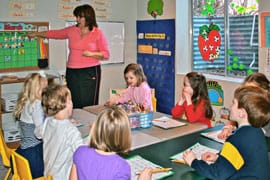 Byrne gets her kindergarten
enrichment students' morning started
with calendar work.