Nighthawks abroad in Peru part 2: The adventure
July 1, 2018
/
/
Comments Off

on Nighthawks abroad in Peru part 2: The adventure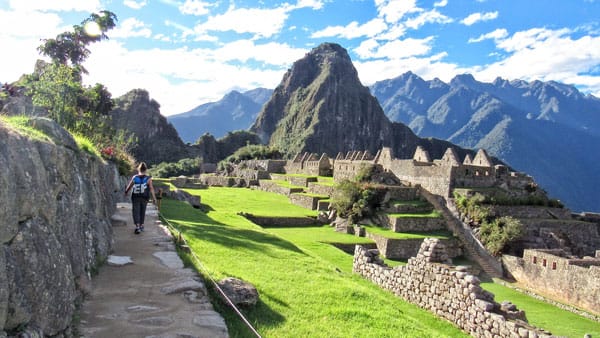 The RHMS travelers marveled at the lost city of the Incas at Machu Picchu, a UNESCO World Heritage site. "It was awesome!" stated Kay Kaul. "An experience the kids will remember for the rest of their lives!"

By Susan Helton; photos courtesy of Anna Mallinson and Kay Kaul
In early June, 12 Rocky Heights Middle School (RHMS) students, along with teacher Kay Kaul, second tour chaperone Clark Wilhelm and several parents, experienced an adventure-packed nine-day trip with EF Tours (Education First). Their trip took them to Peru to visit Lima, Cusco, and the land of the Incas. "I liked everywhere so much I can't pick my favorite place!" stated student Jamie Horan.
The travelers' amazing experiences included visiting the Larco Museum, sampling churros from Manolo, visiting a food market, trying the local delicacy cuy, learning how to make chocolate, seeing dancers parade into the town plaza for the coming of the winter solstice, and visiting the workshop of world-famous pottery artist Pablo Seminario. The group also visited Paty's Factory, famous for its textiles, attended a weaving demonstration, and picked up some great souvenirs. Horan and fellow student Victoria Mallinson both loved how soft and comfortable their new alpaca blankets were.
The group visited a local's home and also helped out at Cooperar Peru, an organization working with EF to help a local community. "I liked learning about the people of Peru because it was interesting to see how differently they live," stated Horan.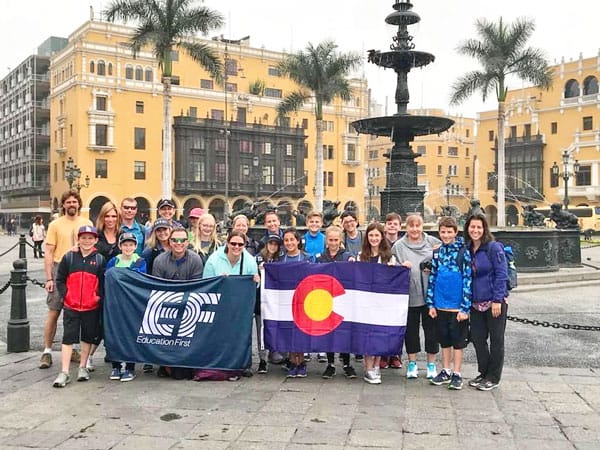 Teacher Kay Kaul was determined to get as many photos as possible in different locations with the flag from EF Tours, including this one from the main plaza in Lima. Of course, the travelers had a Colorado flag to wave, too!
The RHMS travelers also attended a soccer game – between Alianza Lima and the Cusco first division team Real Garcilaso – at 11,000 feet, in the rain! And they met the second division team Sport Loreto, who happened to be staying in their hotel.
The Incan sites were a highlight of the trip. The travelers marveled at Sacsayhuaman's monoliths, the Maras Salt Ponds and Ollantaytambo, the estate of Incan Emperor Pachacuti. They spent six hours at Machu Picchu and the Sun Gate, where they found llamas among the ruins. Mallinson loved Machu Picchu. "The most interesting thing I learned was that Machu Picchu is actually the mountain behind the place and that what we call Machu Picchu we don't know the name of," she stated.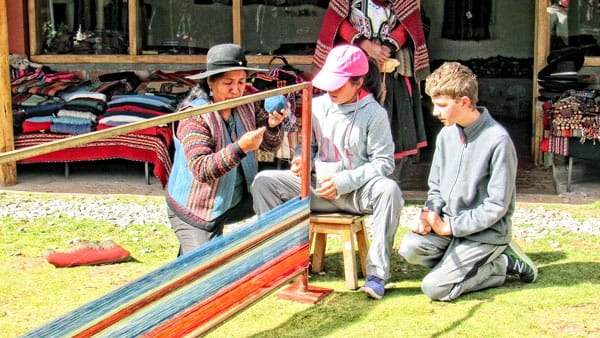 At a weaving demonstration, using llama and alpaca wool colored with different plants and bugs, the kids tried some wool dyeing and weaving. Karmel Behboodi and Connor Brown worked hard to avoid getting knots.