Refrigerator rolls for family feasting
January 1, 2015
/
/
Comments Off

on Refrigerator rolls for family feasting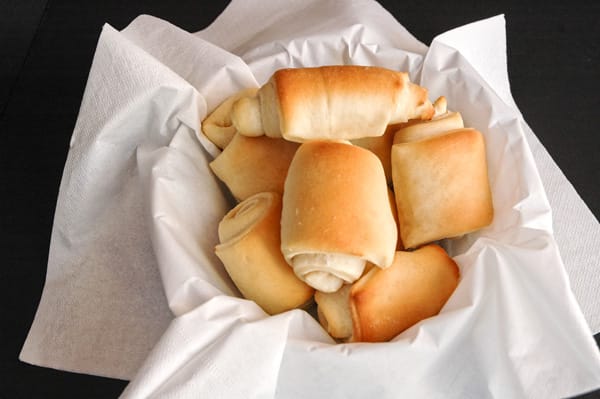 Article and photos by Lisa Crockett
I always look forward to January. There's something so peaceful about taking down all the holiday decorations and enjoying the emptiness of the house after a season of celebration. I like a good party as much as the next person, but there is something deeply delicious about a quiet, clean house after all the hustle and bustle.
I take a similar approach to meal preparation in the new year. After weeks of butter and cream, sugar and spice, I crave simple and wholesome fare. I also look forward to making things in the kitchen that are easier and less time-consuming to prepare than holiday treats. And what's more basic or perfect than homemade rolls? A little flour, water and yeast can come together to form the foundation of a tasty and satisfying meal.
And yet, throughout my endeavors in the kitchen, for many years a good batch of rolls proved to be just beyond my grasp. My earliest attempts at making bread and rolls turned out a final product heavy enough to sink a ship. Years of practice have taught me a few tricks of the trade that have given me decent results, though.
First on the list: use a recently-purchased package of yeast to ensure proper rising. Yeast is a living thing and loses potency as it sits in the kitchen cupboard. Yeast is also rather particular about the temperature it prefers to work in. Too cold and it simply won't wake up. Too hot and the yeast will die. If you want to use a thermometer, shoot for a temperature around 100 degrees. I usually don't get quite that technical, however, and simply use water at a temperature that matches what I would use for a comfortably warm soak in the tub.
My next trick isn't really a trick at all. In fact, some expert bakers would call it a cheat, but it keeps my rolls from coming out like bricks so I'm okay with it. Kneading is important because it develops the gluten in the rolls and gives them structure. It's also a potentially sticky, harrowing chore. The best solution, in my opinion, is to get a machine capable of handling the kneading for you. Lots of mixers can do the job (I have a KitchenAid stand mixer) but a hand-held mixer won't be up to the task. Kneading bread dough is a heavy-duty job and requires a heavy-duty machine.
Great rolls also require time and patience. This is where I continue to falter, even after years of practice. Making a batch of rolls from start to finish can take all day with fairly unforgiving schedules for rising, forming, rising again, and finally baking. So as much as I love homemade bread or rolls hot from the oven, it was a rare and special occasion that I actually worked up the gumption to make them. Until now.
I've found a recipe that can be mixed up, placed in the fridge and left to rise very slowly overnight or up to a few days. The slow rise allows me to make rolls on a more forgiving schedule and also produces a complex flavor. The rolls this recipe produces are light and tender and just a bit sweet. They're the perfect thing to accompany a pot of soup or chili. They're also perfect buns for sliders or pulled pork sandwiches. Or, roll them out and sprinkle the dough with cinnamon sugar for yummy and simple cinnamon rolls that are worth getting out of bed for. And you can have them finished in time for breakfast because they won't take all day to make.
Delicious Refrigerator Rolls
– 1 1/4 cups warm water
– 1 package active dry yeast
– 4 cups all-purpose flour
– 1/3 cup sugar
– 1/3 cup melted butter
– 1 egg
– 1 teaspoon salt
– Additional melted butter
See instructions for mixing and baking below
In the bowl of a mixer, mix water and yeast and let the yeast dissolve a bit. Then add a cup of flour, the sugar, 1/3 cup melted butter, egg, and salt, stirring until the ingredients are well combined. With the mixer on low, add flour about a half cup at a time, waiting until it is well incorporated before adding the next half cup. After all the flour has been added, allow the machine to knead the dough for about five minutes.
Place dough in a well-greased bowl, turning the dough over so the whole surface of the dough is greased. Cover with plastic wrap and place in the fridge for 12 to 48 hours. The dough will rise in the fridge, so make sure the bowl has room for the dough to grow to roughly double its original size.
When you're ready to bake the rolls, preheat the oven to 375 degrees and punch the dough down and divide it in half. Roll half the dough into a rectangle about 12 inches by 18 inches, brush the surface with butter, then roll dough up, jelly-roll style. Cut roll into 12 pieces. Repeat with the other half of the dough. Place rolls about two inches apart on a lightly greased baking sheet, cover with a clean dish towel, and allow to rise in a warm place for about 45 minutes.
Bake rolls for 12 minutes, or until golden brown. Serve warm or at room temperature