'Roll' into the new year with this light and healthy dish
January 1, 2023
/
/
Comments Off

on 'Roll' into the new year with this light and healthy dish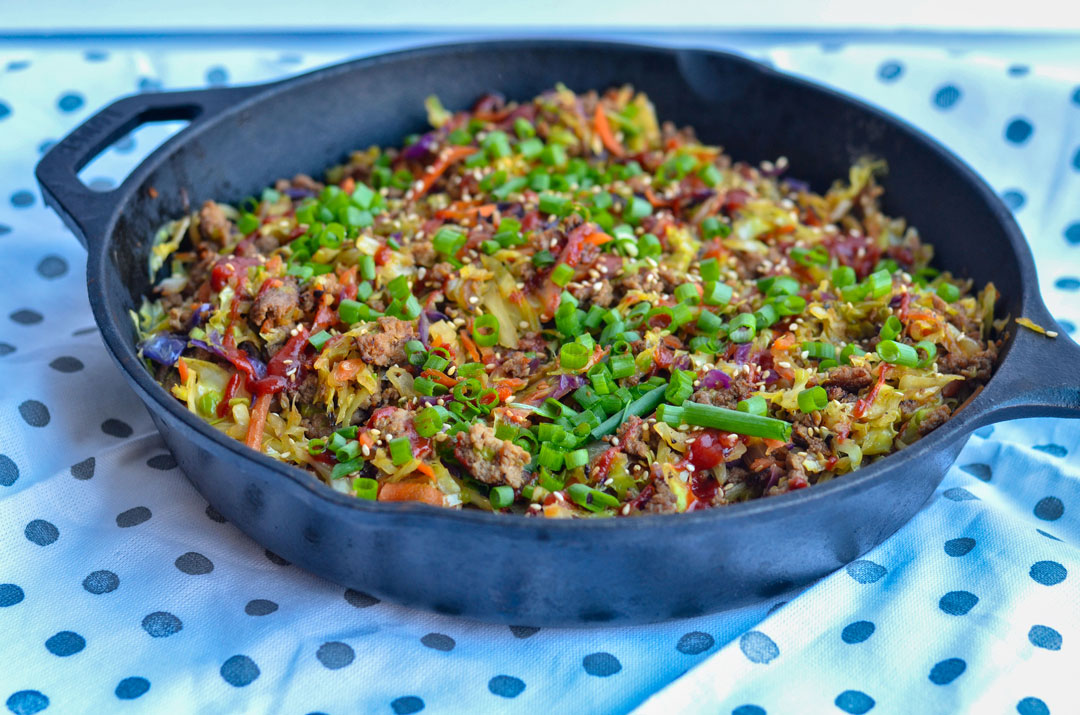 I nearly always ring in the new year with a take-out carton in my hand. Some years I do burgers or pizza, but most of the time, I gather friends and loved ones and test out my chopstick skills while watching the ball drop over Times Square (don't be jealous – not everyone can be as glamorous as me).
I'm not sure where this particular tradition came from, but it's easy and tasty. Every year, it's a welcome relief from the hassle and stress of the previous month's drawn-out, fancy affairs. Sure, it's a little greasy, but for a holiday, I'm willing to indulge.
After I welcome the change of the calendar, though, I'm ready to leave some calories behind for a while and get back on track with my eating habits. Often, this means I'm eating salad day after day, after day, after day … well, you get the idea. I love salad, but it can be hard for my taste buds to adjust to such austerity, so this deconstructed egg roll recipe has the flavors my mouth wants without the extra baggage. Protein and veggies are the stars of the show here, and the truth is I don't really miss the greasy, deep-fried wonton wrapper from the take-out place.
The basics of this dish are nearly as simple as any salad I might make. A whole heap of shredded cabbage serves as the base along with ground sausage. Pork sausage is slightly more authentic and works great for adherents to a keto diet, but in January I'm likely to go for the lighter, turkey sausage that is a bit lower in fat. I like the added flavor that sausage brings to this dish, but plain ground beef, pork, poultry or even finely chopped tofu would work well here.
Soy sauce and ginger provide a savory, warm flavor profile, while the sesame seeds, green onions and sriracha add color, heat and a touch of sweetness. The secret ingredient that makes a few humble ingredients a favorite meal is a small amount of sesame oil, which imparts a deep umami flavor throughout the dish. Sesame oil is easy to find in the Asian section of most grocery stores and is critical to the success of this dish, so don't skip it.
The balance of flavors and food groups in this dish means that it stands on its own. Sometimes, I chop a cucumber or rinse some sweet snow peas to put on the table alongside this, but more often than not I skip the sides. The self-contained nature of this meal means that there's only one pan to wash and dry, a seeming miracle after the piles of holiday dishes that seem to spontaneously self-generate every few days.
If I'm craving something sweet after dinner, the tang and sweetness of a fresh orange is a perfect complement to the rich savor of this meal.
I often make a double batch of this deliciousness since it keeps well in the fridge for a few days, so I can enjoy it for lunch or another dinner, or even an afternoon snack. No matter when I eat it, (possibly late at night, straight from a container, standing in the warm glow of the fridge light), it is a sure bet I have stuck to my resolutions. It is a great way to begin the new year.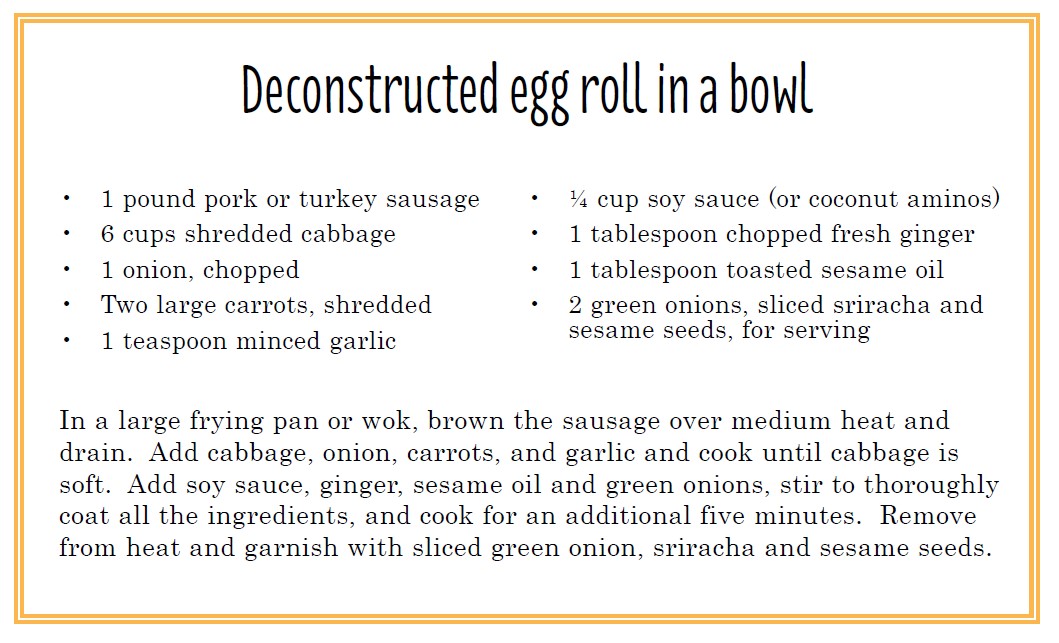 Deconstructed1 pound pork or turkey sausage
6 cups shredded cabbage
1 onion, chopped
Two large carrots, shredded
1 teaspoon minced garlic
¼ cup soy sauce (or coconut aminos)
1 tablespoon chopped fresh ginger
1 tablespoon toasted sesame oil
2 sliced green onions
Sriracha and sesame seeds for serving egg roll in a bowl
In a large frying pan or wok, brown the sausage over medium heat and drain. Add cabbage, onion, carrots, and garlic and cook until cabbage is soft. Add soy sauce, ginger, sesame oil and green onions, stir to thoroughly coat all the ingredients, and cook for an additional five minutes. Remove from heat and garnish with sliced green onion, sriracha and sesame seeds.
Article and photos by Lisa Crockett