Seasonal strawberries for a sweet summertime snack
June 1, 2018
/
/
Comments Off

on Seasonal strawberries for a sweet summertime snack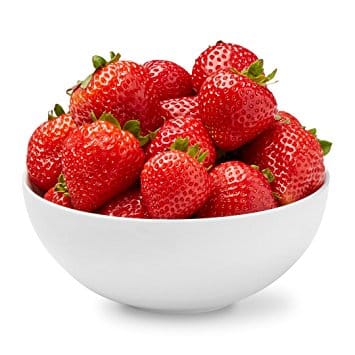 By Lisa Crockett
It's strawberry season. Through the miracle of the modern food system, of course, most consumers can get strawberries year round, but they're hitting their peak ripeness in the next few weeks, which means they're at their most tasty and least expensive right now. Here are some ways to make the most of these early-spring goodies:
*Strabagua fresca: In a blender, mix two cups of water, three cups of strawberries, and a teaspoon or two or sugar or honey (according to your preference; if your fruit is sweet, you don't need any additional sweetener.) Serve over crushed ice with a squeeze of lime.

*Strawberry jam in the freezer: Crush a quart of ripe strawberries with a potato masher and measure two cups of crushed fruit; stir together with two cups of sugar. In a small saucepan, combine ¾ cup water and one packet (1.75 ounces) of powdered pectin, bring to a boil and allow to boil for one minute. Stir the pectin mixture into the sugar-fruit mixture and ladle into one-cup containers. Allow jam to stand for 24 hours to thicken, then store in the freezer.
*Roasted strawberries: Toss a pound of strawberries with a tablespoon of sugar, a tablespoon of balsamic vinegar, a teaspoon of vinegar and a pinch of salt. Spread strawberries on a parchment-lined baking tray and bake at 350 for 25 minutes. Serve berries over cake, ice cream, or even your favorite soft cheese.
*Strawberry vinaigrette: In a blender, combine a pound of strawberries, ¼ cup sugar, ¼ cup lemon juice, 2 tablespoons olive oil, 2 tablespoons apple-cider vinegar and ¼ teaspoon poppy seeds. Serve over fresh baby spinach; avocado and chopped almonds are a delicious addition.

*Summer strawberry salad: combine two cups chopped strawberries with two cups of cubed watermelon, then add 10 or so leaves of finely chopped fresh basil. Sprinkle with a whisper of black pepper.
*All-in-one bites: Using an electric mixer, whip together an 8-ounce brick of cream cheese, ½ cup of heavy cream, and ¼ cup powdered sugar. Remove the stems of a pint of strawberries, and use a paring knife to hollow out the center of each berry. Transfer cream cheese mixture to a piping bag, and fill each strawberry. Garnish with crushed graham crackers.
*Sweet salsa: Finely chop a pound of strawberries, then combine with ½ cup finely chopped red onion, 1 finely chopped jalapeño pepper, the juice of two limes and a pinch of salt. Serve with tortilla chips or as a condiment with chicken or fish.
*Strawbutter: Using a hand mixer, whip eight tablespoons of butter (softened to room temperature) with 1-2 cups very ripe strawberries. Add sugar to taste and serve on pancakes, toast, or waffles.