Stars for Castle Rock hopes to keep the arts alive in schools
August 1, 2012
/
/
Comments Off

on Stars for Castle Rock hopes to keep the arts alive in schools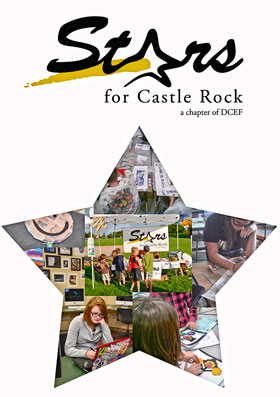 By Elean Gersack and logo and star photo provided by Stars for Castle Rock
Stars for Castle Rock, a volunteer board and chapter of the Douglas County Educational Foundation, is advocating for arts in education and providing financial support for the visual arts in Douglas County Schools. During the next few months, the group will build awareness with large metal stars placed throughout Castle Rock and will culminate with a Masquerade Gala on Friday, November 9.
Julie Holladay, president of the board, is a long time teacher in the county, spending the past six years teaching visual arts at Castle View High School. According to Holladay, with district budget cuts, the arts have seen a decline in many schools with some teachers down to part-time and some gone altogether. "We want to help keep the art programs alive," Holladay noted.
Six large metal stars approximately four feet across, created by professional artists and some select student artists, will soon highlight the town. They will be placed throughout Castle Rock for a "star hunt" beginning in August. Residents are encouraged to try and locate all six. The clues and prize details will be posted on the organization's Facebook page at www.facebook.com/starsforcastlerock.
The star theme ties back to the tradition of the Castle Rock Starlighting. "We wanted a visual piece for the town and Starlighting is a beacon when driving down I-25," shares Holladay.
This year, the group will provide support for the Douglas County High School and Castle View High School feeder areas, including art scholarships to seniors (i.e. to attend classes); visual arts grants to schools (i.e. to bring in a guest artist or repair a broken kiln); and dedicated art program funding to two highlighted schools, Castle View High School and Rock Ridge Elementary School. In future years, Holladay's greatest hope is to expand efforts to the entire county as Stars of Douglas County.
To help advocate the visual arts, the group will host a free mask-making event at the The Outlets at Castle Rock on Saturday, August 25, from 10 a.m. to 4 p.m. Kids can take part in free mask-making lessons and paint metal star ornaments. Tickets to the Masquerade will be on sale and there will be a drawing for free tickets to the event as well.
The Bayou-themed Masquerade Gala will be Friday, November 9, at Cielo in Castle Pines. In addition to dinner and dancing, the large metal stars will be auctioned off during a live auction and many other items will be available during the silent auction. Tickets are $75 per person.
Businesses interested in sponsoring a table for the event, those interested in volunteering to help, and anyone wishing to purchase tickets can visit www.starsforcastlerock.com.