What's the matter? Timber Trail chefs figure it out
November 1, 2013
/
/
Comments Off

on What's the matter? Timber Trail chefs figure it out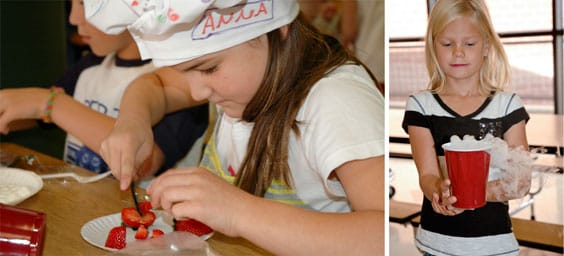 Pictured left: Third grader Anna Porter chops fruit as part of Timber Trail Elementary's first-ever Iron Chef activity. The lesson was designed as a hands-on way for students to demonstrate their knowledge about different states of matter. Pictured right: Third grader Peyton Maurer learns about transforming a liquid to a gas using dry ice and apple soda.
Article and photos by Lisa Crockett
Solids, liquids and gases. To really gain a thorough understanding of how states of matter change, a hands-on approach is best, and third graders at Timber Trail Elementary (TTE) had a fun morning learning all about it.
Students were given instruction in the states of matter and then given various "matter" in the form of popular treats and snacks like caramel, chocolate chips and soda. Students were also given tools like small votive candles and dry ice, to transform their materials from one state of matter to another.
"This performance assessment incorporates all of the four C's: creativity, critical thinking, collaboration, and communication," said student teacher Amy Wathern. "The kids also used twenty-first century tools. They used pictures and videos taken on iPads to create digital presentations from a selection of iPad apps. This is important because the kids take ownership of their learning and have a great deal of responsibility in applying that learning."
The lesson is part of a new initiative at TTE called "Project Based Learning," an effort to allow students to engage in learning by doing.
"As teachers, we're able to watch the children apply their critical thinking skills," said Julie Haverstick, a third grade teacher. "Unlike a traditional pencil-to-paper test, students were able to apply their knowledge of the content in a unique way."
Students melted chocolate, caramel and marshmallows and created treats that ran the gamut from fondue to candy-based smoothies. Most groups created some sort of foaming brew using dry ice. Across the board, lots of tasting happened throughout the lesson.
"We're trying to make a volcano out of licorice and marshmallow," said third grader Aiden Sousavilla. "We melted the marshmallows and made them into a liquid to hold the volcano together. This is fun."